Parmigiano Reggiano Molten Cake
Parmigiano Reggiano Molten Cake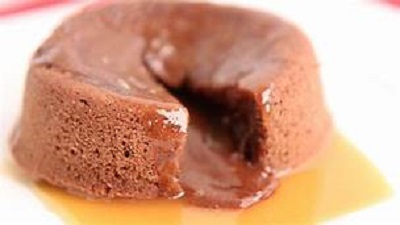 Ingredients:
Serves 4
1/2 cup Butter + extra
2/3 cup Flour
3 cups of Parmigiano Reggiano + extra
6 Eggs
1/2 Fennel Bulb, finely sliced
1 Orange, peeled, skinned & cut into pieces
Fresh Dill
Extra Virgin Olive Oil
Salt & Pepper
Instructions:
Pre-heat oven to 400°F.
In a sauce pot, melt 1/2 cup of butter.
Once melted, stir in 2/3 cups of Flour to make a roux.
Freshly grate 3 cups of Parmigiano Reggiano from the wedge, set aside.
Pour the roux to a mixing bowl.
Add 6 Eggs, then, whisking constantly, add grated Parmigiano Reggiano in handfuls.
Butter 6 ramekins (can be substituted for a muffin tin) and sprinkle each with grated Parmigiano Reggiano.
Scoop Parmigiano Reggiano/roux mixture evenly into each ramekin. Bake for 10 minutes.
While cakes are baking, prepare Fennel salad. 
In a mixing bowl, add fennel, oranges, and dill. Mix. Add a couple healthy drizzles of Extra Virgin Olive Oil and season with Salt & Pepper, to taste. Mix and set aside.
Remove Parmigiano Reggiano Molten Cakes from oven, and carefully loosen them by running a knife around the outside of each cake to loosen the edges.
Carefully flip ramekin over and remove each cake. Serve cakes on top of fennel salad and enjoy!