Pasta with Bottarga, Swordfish and Cherry Tomatoes
Pasta with Bottarga, Swordfish and Cherry Tomatoes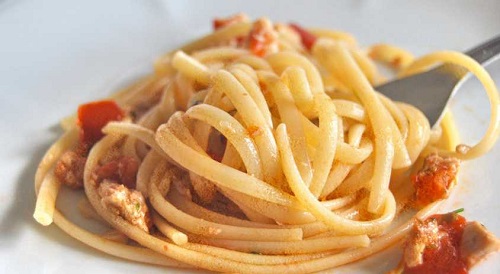 Discover this bottarga recipe with swordfish and cherry tomatoes: an interesting and luscious fish first course, excellent with both long and short pasta!
One of the most famous pairing for bottarga is… pasta: the savory taste of this particular ingredient can give the right seasoning to your fish first course.
Today we propose you a pasta with bottarga and swordfish, a dish worthy of the best Italian restaurants.
Bottarga, that you can find both mullet and tuna fish roe, is an healthy ingredient rich in proteins and Omega 3.
If you don't know bottarga and you want to know how to cook bottarga and others important tips you can read our bottarga guide.
Cooking tips
To prepare a delicious a variant of this bottarga fish roe recipe you can add Zucchini Flower at the end of the cooking time: slice the flowers and mix them with the other ingredients. Sauté for two minutes and your final dish will be more delicate and original.
Instructions
Cut the swordfish steak into cubes.
In a frying pan put 2 tablespoons of olive oil and cook the fish.
Add the white wine and let it evaporate.
After the wine has completely evaporated, add the chopped tomatoes and cook for 5 minutes.
In a pot boil salted water, add the pasta and drain it 3 minutes before the cooking time indicated on the package. Do not throw away all the cooking water.
Pour the pasta in the pan with the sauce where it will keep on coogking, but remember to add regularly some cooking water. Taste the pasta to check the consistency.
Before serving sprinkle with abundant grated bottarga.
Enjoy your meal!
https://www.sensibus.com/deli/recipes/pasta-bottarga-swordfish-and-cherry-tomatoes
Foto: Spaghetti by Elvira – Ciboulette CC 2.0 modified