Pasta with Nunnata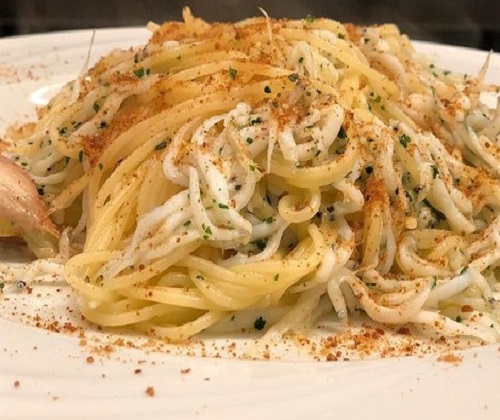 Fishermen are allowed to catch the nunnata only for a short and limited period of time, usually fifteen days, between February 15 and April 15.
Nunnata refers to just born sardines, anchovies or mackerel.
In Palermo, the nunnata (neonate- just born) is also called sfighiata (from fighia, daughter); in Italian these small fish are called bianchetti, because of their whitish transparent color.
Ingredients
1 lb spaghetti
1 ½ lb nunnata (washed). If using frozen nunnata boil it briefly.
5 tablespoons olive oil
1 crushed clove of garlic
1 ½ tablespoons finely chopped parsley
Sea salt and pepper to taste
Instructions
1. Against everybody's recommendation not to wash the nunnata, I advise strongly to delicately wash it to eliminate any residual seaweeds or any sand or foreign articles. Do not wash it in running water, but place the nunnata in a basin with cold water and a little at a time, using your hands, transfer into a strainer to drip. Repeat if necessary. Place onto a kitchen rag to allow it to dry and refrigerate until ready to use.

2. If using frozen nunnata: defrost overnight in the refrigerator, and wash it, following the above directions. While cooking the pasta, bring to a boil in a 6-quarts sauce pot, 4 quarts of water with 1½ teaspoons of sea salt; keep heat to high and add the nunnata, placed in a strainer so as not to disperse in the boiling water. Boil the sfighiata for 30 seconds, drain and transfer it into a bowl and set on the side.

3. Prepare the nunnata as per above directions. If fresh place in the refrigerator until ready to use it; if frozen follow directions for boiling it and set aside.

4. Boil 5 quarts of water with 2 tablespoons of salt and cook the pasta, following the directions on the package.

5. Over a medium heat, in a large skillet place the olive oil and the crushed garlic, with a wooden spoon squeeze the garlic into the oil to release its flavor. When garlic is light golden, discard it.

6. Drain pasta and reserve some of the cooking water.

7. Place the skillet with oil, over high heat; add the parsley, the nunnata, one ladle of the cooking water and the spaghetti.

8. Mix well and if you feel that the spaghetti are too dry add more reserved water as needed.

9. Transfer into a serving dish or plate into individual portions and garnish with remaining parsley.