Pasta with Shrimp and Broccoli Rabe
Pasta with Shrimp and Broccoli Rabe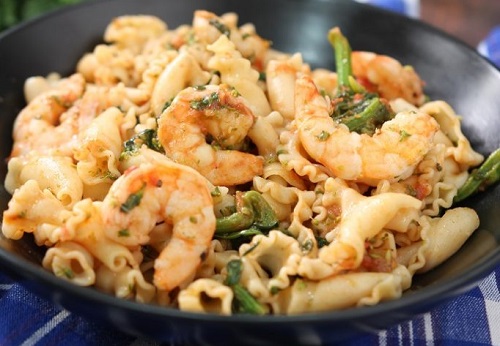 Ingredients
    1 lb. Pasta I used Campanelle
    1 lb. Shrimp cleaned, deveined and shells removed
    1 bundle Broccoli Rabe trimmed
    14 oz. Plum Tomatoes peeled
    4 Garlic cloves chopped
    2 Tbsp. Butter
    1/2 cup White wine Dry (Chardonnay)
    Olive oil extra virgin
    Salt and black pepper
Instructions
    Bring a pot of salted water to a boil. Once boiling, fill a large bowl with ice and water and set aside. Submerge the broccoli rabe in the boiling water and allow to cook for three minutes. Blanching the broccoli rabe slightly cooks it while releasing some of the bitterness. Drain the broccoli and add into the ice water bowl to stop it from cooking. Set aside.
    Bring a separate large pot of salted water to a boil. This will be used to cook the pasta later.
    Add a large drizzle of olive oil in a large sauté pan over medium heat. Add the butter and half of the garlic and sauté for a minute.
    Add in the shrimp and cook for two minutes, making sure to flip the shrimp over to cook evenly. Season with salt and black pepper and then add in the white wine. Continue to cook for another minute, allowing the alcohol to evaporate. Pour the shrimp and sauce into a clean bowl and set aside.
    In the same sauté pan, add another drizzle of olive oil and the rest of the garlic. Sauté for a minute over medium/high heat and then add in the peeled plum tomatoes. Mix together while pressing on the tomatoes to break them apart.
    If the pasta you are using takes ten minutes to cook, add the pasta into the pot of water at this point. If using fresh pasta and the cook time is about five minutes, allow the sauce to cook over medium/low heat for five minutes before you being cooking the pasta.
    Meanwhile, drain the broccoli rabe from the ice water and set aside.
    After the tomato sauce has cooked for five minutes, pour the shrimp and its sauce back into the sauté pan, along with the broccoli rabe. Season with salt and black pepper. Mix and continue to cook over low heat.
    At this point, if using fresh pasta that takes five minutes to cook, add it into the boiling pot of water to begin cooking.
    Once the pasta is done cooking, use a spider strainer to scoop the pasta out of the pot and into the shrimp and broccoli rabe pan.
    Mix the pasta, the shrimp and the broccoli rabe sauce together and enjoy. Salute and cin cin!