Pasta with Truffle Cream Sauce and Bacon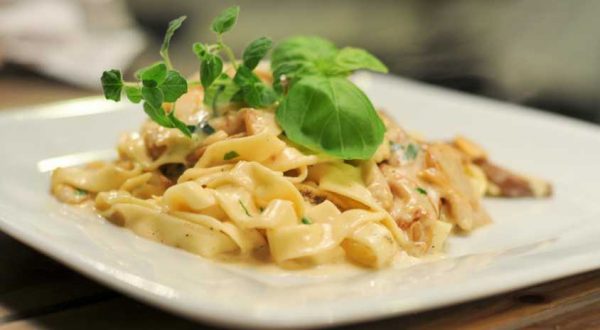 Do you need an idea for a fast main course? Try this delicious and quick truffle cream sauce pasta recipe!
Pasta with truffle cream sauce is the ideal choice if you have to make a meal in a short time.
Truffle is an exquisite specialty that allows to make amazing recipes with few and simple ingredients thanks to its intense flavor.
There are many ways to use this sauce: served with meat, as seasoning for pasta and even as a pizza sauce. We suggest a particular creamy truffle sauce pasta recipe where the intense aroma of truffle mixes with the pungent savor of bacon and the fresh taste of green olives and tomatoes. An easy and quick recipe rich of taste able to satisfy everybody.
We suggest you to use long-shaped like: spaghetti, taglietelle, fettuccine or bucatini.
So, let's see the ingredients to use and how to make truffle cream pasta!
Instructions
Put the oil, garlic and onion in a pan and cook for 2-3 minutes.
Unpit and slice the green olives, and dice the bacon.
Put the olives and the diced bacon bacon in the pan with oil and cook for 5 minutes.
Add the slices of tomatoes, 2 tablespoon of water and let cook for more 15 minutes. You can also add chili pepper.
Meanwhile, bring a pan of salty water to the boil and add the pasta.
When the pasta is al dente, drain it (keeping a glass of cooking water) and put in the pan with the seasoning.
Add the truffle cream sauce and mix. If necessary, add some cooking water and sti to get a creamy sauce.
Serve adding a sprinkle of Pecorino.
Your truffle cream sauce for pasta recipe is ready to be tasted. You can also add basil and accompany this delicious main dish with a delicate and fragrant white wine like Trebbiano or Cortese di Gavi.