Pignoli Cookies – Rossella's Cooking with Nonna
Pignoli Cookies
Rossella's Cooking with Nonna
*
A traditional cookie often served on All Saints Day is the Pignoli Cookie. These have always been one of my favorite cookies. OMG when done correctly they are delicious. In this video Rossella shows us the way her family makes them. I would encourage you to take a few minutes and watch this presentation. These are simply Wonderful.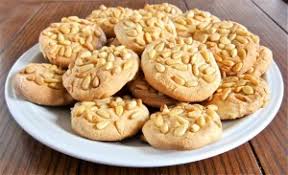 Pignolo (plural pignoli) is a macaroon typical of Sicily, Italy. It is a very popular cookie in all of southern Italy, and in Sicilian communities in the United States. It is also typical of Catalonia, where it is one of several related cookies called panellets, served on All Saints Day.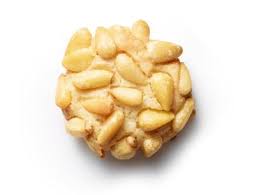 The cookie is a light golden color and studded with golden pine nuts (also called pignoli). Made with almond paste, the cookie is moist, soft and chewy beneath the pine nuts. Often it is formed in a crescent shape; otherwise it is round. This cookie is a popular Italian holiday treat, especially at Christmas. Because both almond paste and pine nuts are relatively expensive, and this cookie uses substantial amounts of both, this cookie is a luxury food.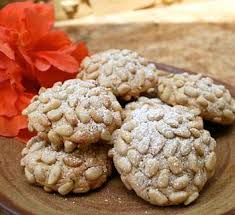 Being essentially an almond macaroon, this cookie belongs to a type known as "amaretto".
Crunchy, chewy, sweet and nutty, these are an almond-lover's dream.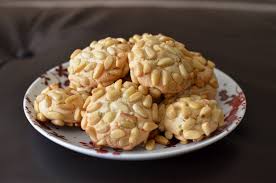 That would be me — the almond lover. I believe most things can be improved with the judicious application of almond extract. Pine nuts are close behind. Need to dress something up? Fling some toasted pine nuts at it, for crunch and flavor.
So Pignoli Cookies featuring a half pound of pungent almond paste AND pine nuts? My idea of heaven!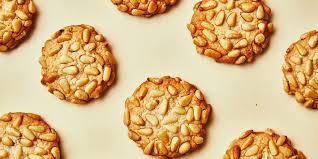 Join Joanne and Frank on Facebook at
and
Visit us on the web at dev.everybodylovesitalian.com