Polenta alla Spianatora (polenta on the board)
Polenta alla Spianatora (polenta on the board)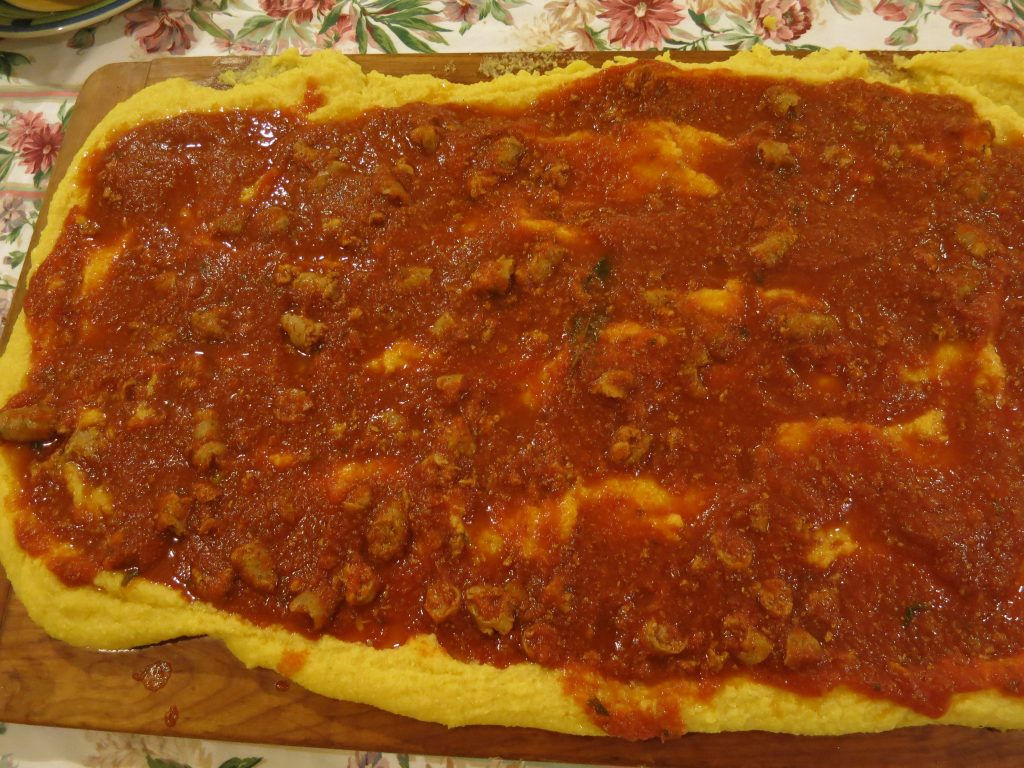 Ingredients
For the sugo:
2 pounds pork neck bones

2 lbs Italian sausages

Salt & freshly ground black pepper

4 tablespoons extra-virgin olive oil

4 cloves garlic

1 medium onion, cut in half

2 tablespoons tomato paste

2 (32-ounce) cans whole peeled tomatoes, passed through a food mill, or crushed tomatoes

1 medium carrot, cut in half crosswise

1 branch basil leaves
For the polenta:
8 cups water or low sodium chicken broth (or a combination of the two)

2 teaspoons salt

4 cups yellow imported Italian polenta
Instructions
To prepare the sugo:
To a large sauce pot, add the remaining 2 tablespoons of olive oil and set over medium heat. Add the garlic cloves and onion halves and sauté for 2 to 3 minutes, until they are just beginning to color. Add the tomato paste and stir around the bottom of the pot until sizzling, about 1 minute. Add the tomatoes, carrot, and basil to the pot, raise the heat to high and bring to a boil. Add the browned pork bones and any accumulated juices, as well as the sausages, to the pot, adjust the heat so that the sauce remains at a steady and gentle simmer and cook for an hour, stirring occasionally.

Stir in 1 teaspoon of salt and several grindings of black pepper continue to cook for 30 minutes longer or until the sauce is thick and the flavors have melded together. Remove and discard the onion and garlic cloves and remove the meat to a bowl. Skim any excess fat from the surface of the sauce and season with salt and pepper to taste. Keep the sauce and meat warm until serving time.
To prepare the polenta:
Bring the water and/or chicken broth to a boil in a large heavy-bottomed stainless steel or cast-iron enameled saucepan. Add 2 teaspoons of salt. Gradually whisk in the polenta. Reduce the heat to low and cook until the mixture thickens and the polenta is tender still very loose and creamy, stirring almost constantly, about 20-25 minutes. Turn off the heat.

Pour the polenta directly onto a large, clean wooden pastry board or plank in a thin, even layer. Use a silicon spatula or wooden spoon to smooth it out. Top the entire surface of the polenta with the sauce and scatter the sausages and braised pork throughout. Serve with grated Pecorino or Parmigiano-Reggiano cheese.