Pomodori Ripieni – Stuffed Tomatoes
Pomodori Ripieni – Stuffed Tomatoes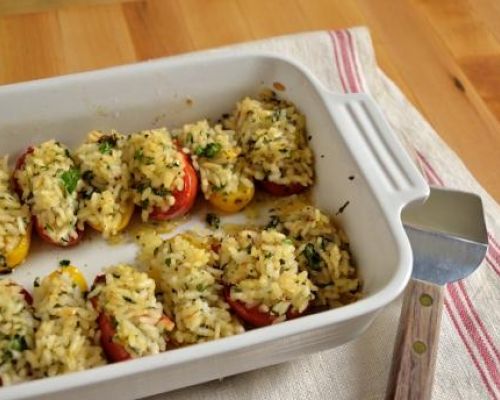 by
Pomodori Ripieni, Stuffed Tomatoes, a traditional summer dish, is particularly pretty if you use a variety of colors or types of tomatoes; pictured are Banana Legs and Martino's Roma. This dish is more than the sum of its parts. The rice filling is tasty, and makes a very nice side dish all on its own. These tomatoes are wonderful cold, and placed nicely into a frittata, make an eye-catching brunch offering.
Ingredients
For
6

Person(s)
For the Tomatoes:
2/3

cup

arborio OR carnaroli rice

1/5

cup

grated Parmigiano OR Grana Padano

1/8

cup

chopped basil

1 1/5

teaspoons

chopped Italian parsley

1/3

teaspoon

dried oregano

peperoncino flakes

1/5

cup

reserved tomato scoopings

1 1/5

cloves of garlic, chopped

2/3

small shallot, minced

2/3

bay leaf

4 1/5

tablespoons

extra virgin olive oil

salt and pepper to taste

7

small Roma tomatoes (about 3 ounces each)
Directions
Preheat oven to 350 degrees.

Cook rice 10 minutes in 3 quarts abundantly salted water to which 2 tablespoons olive oil and 1 bay leaf have been added

Drain rice and discard bay leaf.

Meanwhile prepare tomatoes. Slice tomatoes in half lengthwise, and using a teaspoon or melon baller, scoop contents (seeds, meat and jelly) into a separate bowl. Do not discard.

Be careful not to cut too closely to the outer wall of the tomato. You want the tomato shell to hold its shape so that it can withstand baking and serve nicely.

Sprinkle inside of tomato with salt, and place cut side down to drain on a tray lined with paper towels while you prepare filling.

Pour 1 tablespoon olive oil in small skillet.

Add garlic, shallot and peperoncino flakes and saute gently over medium, heat until translucent, about 4 to 5 minutes.

Do not allow the garlic and shallots to brown – do that and they will taste bitter and ruin your dish. Set aside.

Pour rice into mixing bowl, and toss with 2 tablespoons olive oil.

Add garlic shallot mixture, parmigiano, basil, parsley, oregano and 1/3 cup reserved tomato scoopings.

Season to taste with salt and pepper.

Lightly coat 9 X 13 baking dish with 1 tablespoon olive oil.

Fill tomatoes with rice mixture, mounding slightly.

Place in baking dish.

At this point you may scatter any remaining rice on the bottom of the baking dish around the tomatoes or cover and refrigerate the extra for later use.

Drizzle lightly with 1 to 2 tablespoons olive oil.

Bake approximately 20 to 25 minutes until tomatoes have begun to soften and tops are golden, longer for larger tomatoes.

Serve hot or at room temperature.
Recipe Notes
This will make enough filling for about 20 small Roma type tomatoes or 10 medium tomatoes (about 5 ounces each) or 4 gigantic tomatoes, such as Brandywine, Persimmon or Copia. The large tomatoes are quite impressive here. If you decide to go for the heavyweights, reserve the tops after you slice them off, and replace them for baking, drizzling a bit of olive oil over the tops as well as the filling. Variation: For a heartier filling with even more flavor, cook your rice in 6 cups unsalted chicken broth to which 1 bay leaf and 2 tablespoons olive oil have been added.