Pork Chops Marsala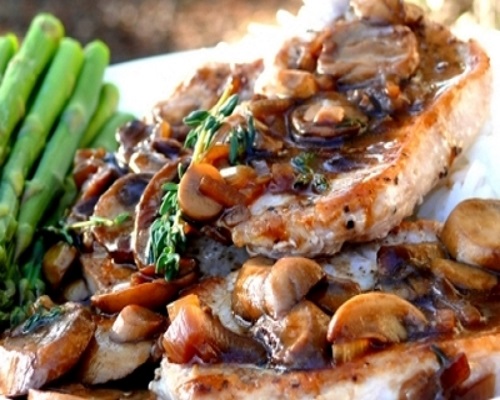 INGREDIENTS
Serves 8 people.
8 center cut boneless pork chops

1 cup of seasoned breadcrumbs

1/2 cup of freshly grated Parmesan cheese

1 tsp of dried thyme

2 eggs

1/4 cup of milk

1 bunch of long green onions, chopped

8 button mushrooms, sliced

8 baby Portobello mushrooms, sliced

8oz of fresh porcini mushrooms, sliced

1 Tbls of flour

2 Tbls of butter

2 Tbls of olive oil

1 bunch of long green onions

1 cup of beef broth or stock

1/2 cup of dry Marsala wine

1/2 tsp of salt

1/2 tsp of fresh ground black pepper

1/4 cup of parsley

PREPARATION

In a small bowl mix the Parmesan, breadcrumbs, salt, pepper and thyme..

In another bowl beat the eggs and the milk together.

Dredge the chops in the egg then the breadcrumb mixture.

Fry the chops in the oil and butter until done, around 5 minutes on each side.

Set the chops aside and keep warm while making the sauce.

Sauté the onions and mushrooms for 3 minutes until tender.

Stir in the flour then add the Marsala and beef stock. Cook until slightly thickened.

Season with a little more salt and pepper.

Plate the Pork Chops Marsala and top with the mushroom sauce and garnish with parsley. Serves 8 people.
http://www.great-chicago-italian-recipes.com/pork_chops_marsala.html