Pork Loin with Marsala Wine
Pork Loin with Marsala Wine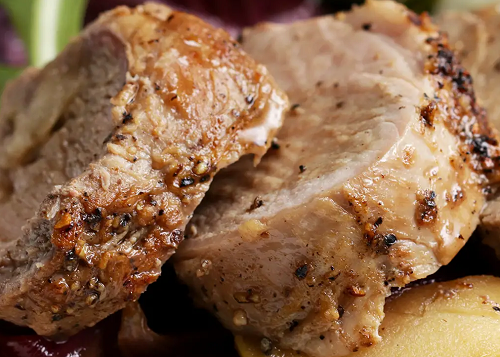 Ingredients:
One (2 and 1/2 to 3-pound) boneless pork loin roast
Leaves from 3 sprigs fresh rosemary or 1 tablespoon dried rosemary
2 garlic cloves, chopped
3 tablespoons butter
2 tablespoons extra virgin olive oil
Salt and freshly ground pepper to taste
1 cup dry white wine
1/2 cup dry Marsala wine or sherry
1/3 cup whipping cream
Directions:
Rub pork with rosemary and garlic.
Melt butter with olive oil in a large heavy casserole over medium heat.
When butter foams, add pork.
Brown meat on all sides.
Add salt and pepper.
Add 3/4 cup of the white wine.
Deglaze casserole by stirring to dissolve meat juices attached to bottom of casserole.
Partially cover casserole and reduce heat.
Cook pork 2 hours or until tender; baste pork several times during cooking. If sauce looks too dry, add remaining wine.
Place pork on a cutting board.
Remove as much fat as possible from pan juices.
Add Marsala or sherry and cream to pan juices.
Stir over high heat until sauce has a medium-thick consistency.
Taste and adjust for seasoning.
Slice pork and arrange on a warm platter.
Spoon sauce over pork.
Serve immediately. Makes 6 servings.