Pork tenderloin with apples
Pork tenderloin with apples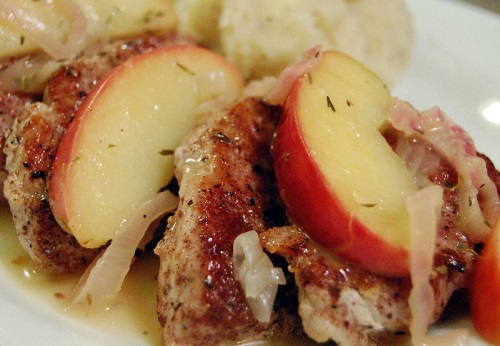 A delight of Piedmont; the sweetness of apples gives the final touch to a unique delicacy!
Ingredients for 6 people:
A pork loin
1 onion, chopped
1 carrot, chopped
1 stalk celery, chopped
butter 60g
4 apples
flour
2 tablespoons of olive oil
1 glass of dry white wine
salt and pepper.
PREPARATION
Peel the apples, remove the seeds and cut into slices.
In a casserole let brown the chopped celery, carrot and onion together with the oil and half the butter then, flour pork loin and put in the saucepan stirring frequently the piece for uniform cooking. Sprinkle with white wine and let it consume high heat.
Add a few slices of apple, salt and pepper and cook over low heat for about 10 minutes.
Remove the loin from the cooking pan and cut into slices; pass the sauce through a sieve, put it again to warm up and then pour it over the loin slices.
Separately, in a frying pan, brown the remaining apple slices in a little butter and, as soon as the proper browning, alternate them, in a dish, with the slices of loin and serve hot.