Pot Roast with Tomato and Red Wine Gravy
Pot Roast with Tomato and Red Wine Gravy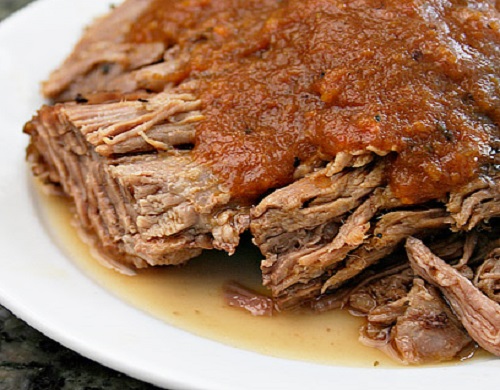 Ingredients
    1 large boneless beef chuck roast (5 1/2-6 pounds), tied (OR, use two 3-pound roasts.)
    Salt and pepper
    4 teaspoons vegetable oil
    3 medium onions, chopped
    1 large celery rib, chopped
    4 medium carrots, chopped
    6 garlic cloves, minced
    1 cup red wine
    1 (28-ounce) can crushed tomatoes
    2 cups low-sodium chicken broth
    1/2 teaspoon hot red pepper flakes
    3 bay leaves
    1 teaspoon dried thyme
    2 tablespoons chopped fresh parsley
Directions
    Liberally season roast with salt and pepper. Heat 2 teaspoons oil in a large skillet over medium-high heat. Brown roast on all sides, 8 to 10 minutes. Transfer roast to slow cooker.
    Reduce heat to medium. Add remaining 2 teaspoons oil to skillet, along with onions, celery, carrots and garlic. Cook, stirring occasionally, until lightly browned, about 4 minutes. Transfer to slow cooker.
    Increase heat to high. Add red wine to empty skillet, scraping up any browned bits with wooden spoon, and simmer for 5 minutes. Add tomatoes and broth, and bring to a boil. Add pepper flakes, bay leaves and thyme. Transfer to slow cooker.
    Set slow cooker to high, cover, and cook until tender, 6 to 7 hours. Or, cook on low for 9 to 10 hours. (Check the temperature with a meat thermometer about 2 hours before the roast is supposed to be done to prevent overcooking. It will be well done at 160 degrees F.)
    Transfer roast to carving board; loosely tent with foil to keep warm. Discard bay leaves. Allow liquid in pot to settle, about 5 minutes, then use wide spoon to skim fat off surface. Puree liquids and solids in batches in blender or food processor. (Or, use an immersion blender.) Stir in parsley, and season to taste with salt and pepper.
    Remove strings from roast and cut into 1/2-inch-thick slices. Transfer meat to serving platter. Pour about gravy over meat.