Potatoes alla Pizzaiola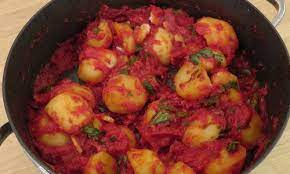 Ingredients
Makes 2 servings.
    1 lb of Baby Yukon Gold Potatoes, peeled and cut in half
    1 28 oz Can of Crushed Italian Tomatoes
    3 Cloves of Garlic, sliced
    1/2 tsp of Oregano
    1 Tbsp of Olive Oil
    Salt and Pepper, to taste
    Fresh Basil Leaves
    Freshly Grated Parmiggiano Reggiano
Preparation
1) Place the potatoes on a microwave safe plate and microwave for 10 minutes.
    2) In a large non stick skillet with high sides, sauté the garlic in the olive oil. Add the crushed tomatoes and oregano, cook for 10 minutes.
    3) Add the partially cooked tomatoes and season with salt and pepper. Cook for 20 more minutes on medium low until the potatoes are fully cooked through.
    4) Add some of the parmiggiano and fresh basil, stir to mix and enjoy!
Top with pancetta and Parmigiano shavings.