Prosciutto-Wrapped Shrimp with Salsa Verde Dipping Sauce
Prosciutto-Wrapped Shrimp with Salsa Verde Dipping Sauce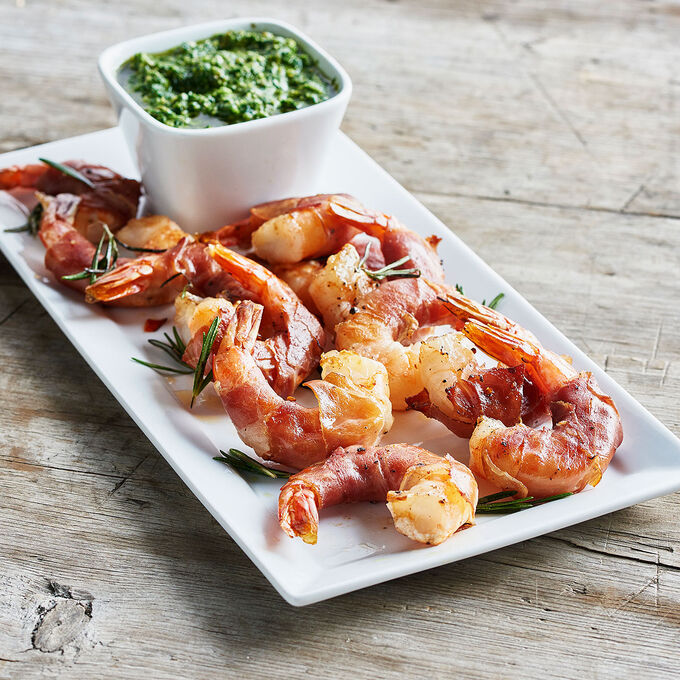 Serves
Makes 4 servings
Ingredients
For the sauce:
2 medium garlic cloves
1 cup flat-leaf parsley leaves
3 anchovy fillets (or 1 teaspoon anchovy paste)
2 tablespoons capers, rinsed and drained
2 tablespoons fresh lemon juice
½ cup extra-virgin olive oil
Sea salt and freshly ground black pepper
For the shrimp:
1 pound medium shrimp, peeled and deveined
2 tablespoons vegetable oil
Sea salt and freshly ground black pepper
4 ounces thinly sliced prosciutto, sliced in half lengthwise
Lemon wedges for serving
Procedure
Italian salsa verde makes an excellent accompaniment to meats, fish and vegetables. This bright and tangy sauce is a great condiment to have in your refrigerator during any season of the year.
Preheat oven to 400°F.
To prepare the sauce: Add the garlic, parsley, anchovy, capers and lemon juice to the bowl of a food processor. Pulse to finely mince, scraping down the sides of the bowl with a spatula as needed. Add oil and pulse until well blended. Taste and adjust seasoning with salt and pepper; set aside.
To prepare shrimp: Place the shrimp in a bowl and toss with the oil, salt and pepper. Wrap each shrimp with a slice of prosciutto and place on a rimmed baking sheet. Transfer the shrimp to the oven and cook until the prosciutto is slightly crispy and the shrimp is starting to become firm, about 2 minutes. Using tongs, turn the shrimp once and cook until pink and opaque, about 2 minutes more.
Arrange shrimp on a serving platter and serve with salsa verde spooned over the top. Place extra sauce in a bowl for dipping. Serve with lemon wedges on the side.
Join Joanne and Frank on Facebook at
and