Puglia Dry Breads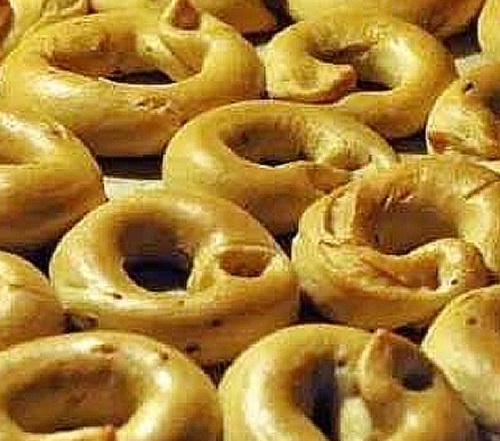 Ingredients:
2.2 lb (1 kg) flour
7 ounces extra virgin olive oil
2 ounces fennel seed
2 tsp baking powder
2 eggs
1 tsp salt
Pepper
Directions:
On a marble or cold kitchen surface place the flour, and mix in the baking powder, fennel seeds, freshly ground pepper and salt.
Form a mound shape and make a well in the middle, in which you will break the eggs and pour in the olive oil.
Moving your fingers from the outside inwards mix all the ingredients and knead the dough.
Soften the dough by adding a little warm water.
Roll out into long thin rolls about 10-25 cm long.
Loop the ends around to form pretzel shapes and space them out to rise for a quarter of an hour covered with a clean kitchen cloth.
Heat the oven to 200° F (400° C).
Bring water to a boil in a large saucepan and dip the taralli inside, remove them and dry.
Place them on an oiled baking sheet and bake for about 20 minutes. Serve cold.