Rigatoni with Spinach and Ricotta
Rigatoni with Spinach and Ricotta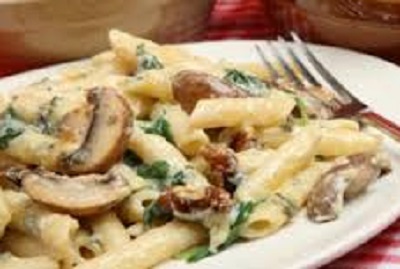 INGREDIENTS
1 pound of Rigatoni

2 Tbls of extra virgin olive oil

1 Tbls of butter

1 bunch of long green onions, chopped

3 cloves of garlic, finely chopped

8 baby portabella mushrooms, sliced

1 pound of ricotta cheese

1 pound of fresh baby spinach, cooked and chopped

1 cup of fresh grated Parmesan cheese

1/2tspof fresh grated nutmeg

1/2 tsp of salt

1/2 tsp of fresh ground black pepper

8 oz. of fresh grated mozzarella or fontina cheese

PREPARATION

In 6 quarts of boiling, salted water, cook the rigatoni for about 8 to 10 minutes until al dente.

Meanwhile saute the onions, mushrooms and garlic for 2 minutes in the olive oil and butter. Let the mixture cool.

Pre-heat the oven to 350 degrees

In a large bowl thoroughly mix together the ricotta, cooked spinach, 1/2 cup of Parmesan cheese, nutmeg, salt and pepper.

Drain the pasta and toss together with the mushroom mixture.

Fold in the ricotta mixture.

Place the rigatoni in slightly buttered baking dish.

Top with mozzarella or fontina or both.

Bake uncovered for about 30 minutes until cheese is browned and bubbly.

Serve with remaining Parmesan cheese

Serves 4 to 6 people.
http://www.great-chicago-italian-recipes.com/rigatoni_with_spinach.html