Roast Salmon with a Basil and Sweet Pepper Sauce
Roast Salmon with a Basil and Sweet Pepper Sauce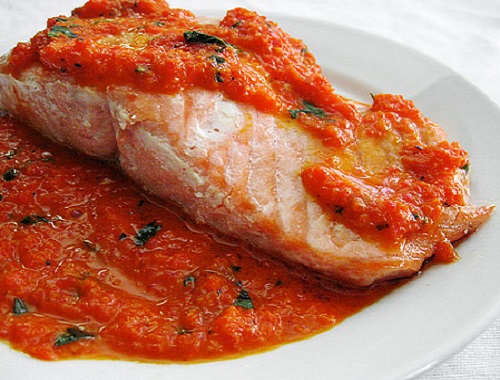 Ingredients
Serves 4
    2 roasted red bell peppers
    1/3 cup olive oil
    4 salmon fillets, about 6 ounces each, scaled but not skinned
    2 tablespoons vegetable oil
    2 tablespoons shredded fresh basil leaves
Directions
    Preheat the oven to 425 degrees F.
    Puree the peppers in a food processor, and slowly add the olive oil.
Season with salt and freshly ground pepper.
 Pour the mixture into a small saucepan, and gently heat the sauce on low.
    Heat the vegetable oil and butter in a roasting pan over high heat.
Season the salmon with salt and pepper, and place it in the pan, skin-side up.
Bake for 2 minutes. Then turn and bake for about 6 minutes, or until the salmon is cooked through.
    Just before serving, add the basil to the sauce.
 Plate the salmon, and spoon the sauce over it.
Serve immediately.