Roasted Garlic Basil Dipping Oil
Roasted Garlic Basil Dipping Oil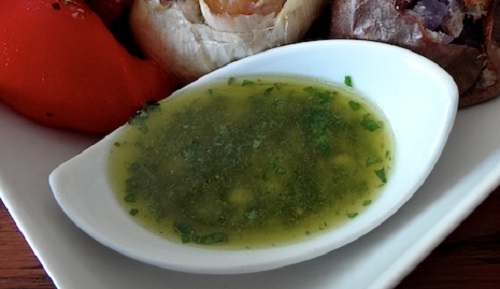 Ingredients
1 whole roasted garlic

1 cup extra virgin olive oil

1/2 cup shredded fresh basil

1 tablespoon fresh lemon juice

Sea salt and black pepper
Directions
In a blender, add garlic, olive oil, lemon juice, and basil. Blend until smooth.

 Season to your taste with sea salt and black pepper.

Store in an airtight container.

Serve with fresh bread, fish, chicken, or veggies.
How to roast garlic:
Preheat oven to 425F.

Cut a thin slice off the head of garlic and discard.

 Place garlic in a baking dish. Drizzle generously with extra virgin olive oil.

Season with sea salt and black pepper and sprinkle with fresh parsley.

Cover and roast until soft (about 20 to 30 minutes).

When it's cool enough to handle, squeeze out the roasted garlic flesh.