Roasted Potatoes with Balsamic Vinegar
Roasted Potatoes with Balsamic Vinegar
Here are some unique balsamic roasted potatoes for a
Simple but Impressive Dinner.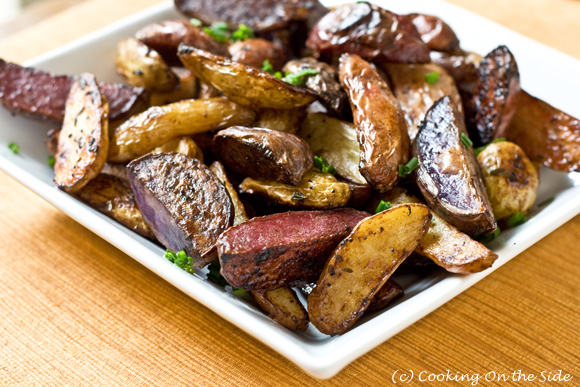 Photo from
Cooking on the Side
Here are some unique balsamic roasted potatoes for a simple but impressive dinner.
The balsamic vinegar gives the potatoes a distinct flavor; they are perfect to accompany beef or pork, but also poultry at your roast dinner parties.
You can also add onions or carrots to this recipe without a problem.
How to make roasted potatoes with balsamic vinegar
Instructions
To begin with, place the oven grilling rack at one-third of the height of your oven (starting from the bottom), and preheat the oven to 440°F.

Peel the potatoes and cut them in half, and then in half again. Season the potato wedges with oil, salt, and a little pepper.

Place them in a pan to bake, and cook until they have a beautiful golden color (turning them only once); it will take about 20-25 minutes.

Sprinkle with 2 tablespoons of balsamic vinegar, and shake the pan in order to distribute the vinegar evenly. Cook for about 3 minutes to make sure the vinegar evaporates.

Serve immediately, sprinkling with half a spoonful of balsamic vinegar, and adjusting with salt.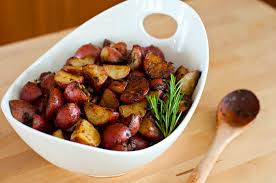 Photo by: ChallengeDairy.com

or visit us on the web at
dev.everybodylovesitalian.com
where we forever Celebrate
Life, Love and the Italian Experience.