Saltimbocca alla Romana Recipe
Saltimbocca alla Romana Recipe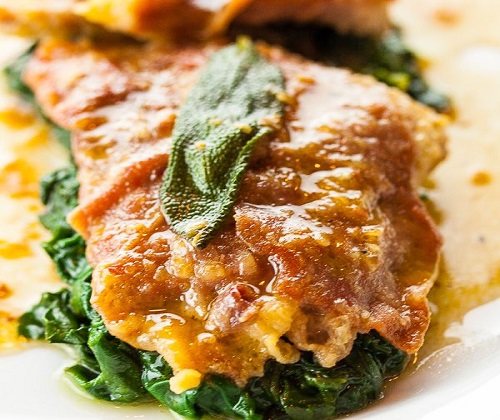 Prep time: 20 min | Cook time: 10 min | Total time: 30 min
Serves 4
8 slices prosciutto
8 veal scalloppine, thinly sliced and pounded
flour spread on a plate for dredging
2 tablespoons olive oil
2 tablespoons butter
8 sage leaves
1/2 cup dry white wine
1/4 cup chicken broth
salt and pepper to taste
Place one slice of prosciutto on each veal scalloppine and pound in lightly with a meat pounder.
Heat olive oil in a large sauté pan over medium-high heat. Dredge both sides of the scalloppine in flour to coat, shaking off any excess. Place them prosciutto side down in pan and cook, turning once, until lightly browned on both sides. Transfer to a warm plate.
Drain oil from pan, place back over heat and add butter. When butter is melted add sage and sauté for one minute.
Add the white wine and scrape loose any bits from bottom of pan, then add the chicken broth and salt and pepper.
Place scalloppine back in pan, prosciutto side up and cook until sauce is reduced by half and scalloppine are heated through.
Transfer veal to serving plates, two scalloppine per person, spoon sauce over top and serve.