Sausage and Peas Risotto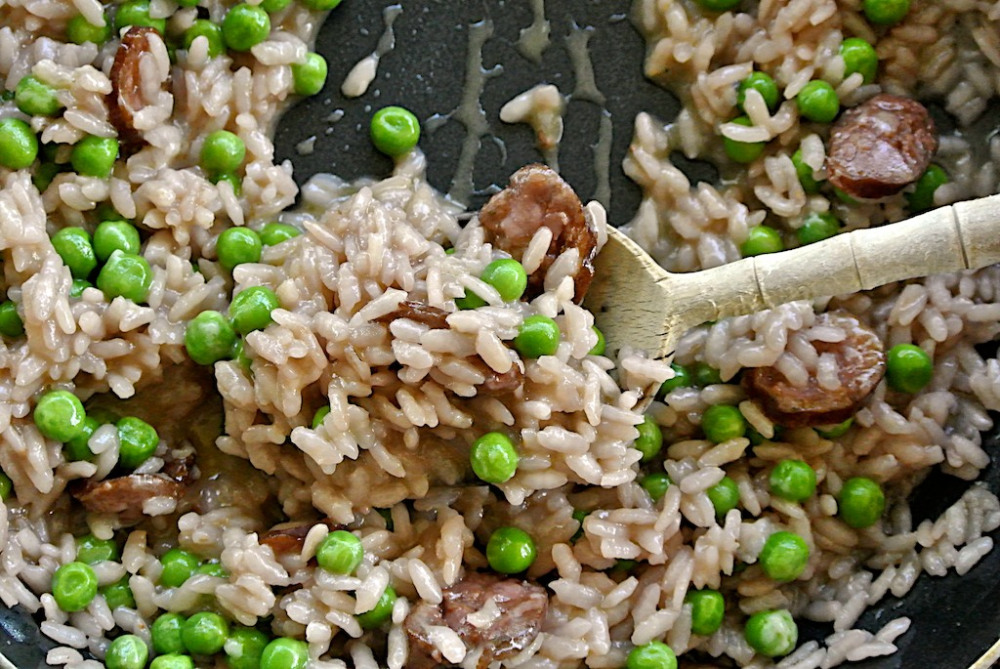 Combine the creaminess of Carnaroli short grain rice with the perfume of red wine and the savoury deliciuosness of pork and fennel sausages, with stewed sweet leeks and a generous amount of butter and Parmigiano and you have got yourself joy on a plate. Risotto is the ultimate comfort food and it is really quite straight forward to make. Having said that, I have to be pedantic and fastidious and insist you only make it if you have a great stock to cook in with. Cubes won't cut it, I'm afraid…
INGREDIENTS, serves 4
2 sausages, sliced
2 tablespoons of extra-virgin olive oil
2 leeks
1 tablespoon of butter +1 extra at the end
2 cups of Carnaroli or Arborio rice
half a glass of red wine
4 cups of good stock
2/3 cup of frozen peas
salt and pepper to taste
freshly grated parmigiano
HOW TO
1. Pan fry  the sausage with oil until browned and almost cooked through. Remove and set aside.
2. Slice two leeks and wash throughly to remove any grit. Stew over a low flame in the same pan with the sausage juices adding a tablespoon and butter a Cover with a lid and stir occasionally. They should turn soft and creamy in about 20 minutes.
3. Add the rice and toast in the pan with the leaks until the grains turn translucent, pour in the wine and allow for the alcohol to evaporate. Stir a little to make sure no grains are sticking to the pan, being mindful not to distress the rice too much. You want to make sure the grains keep their shape and texture.
4. As the wine dries out, turn the flame down and start adding the stock, a few ladles at a time, stirring gently. Repeat for about 16/17 minutes,until the rice is almost cooked. Taste for salt and pepper and adjust accordingly. Add a cup of frozen peas and your slices of sausage.
5. Turn off the flame , add a ladleful of stock, a generous grating of Parmigiano and 1 tablespoon of butter. Stir vigorously to release the starch. Cover with a lid and rest for 3 minutes. This process is called mantecatura and it is essential in order to obtain a creamy risotto with its characteristic all'onda* texture .
Serve with lots of Barbera and enjoy!
* The way of the waves.
Silvia's Cucina is on Facebook, Twitter and Pinterest