Sausage Cranberry Turkey Roulade
Sausage Cranberry Turkey Roulade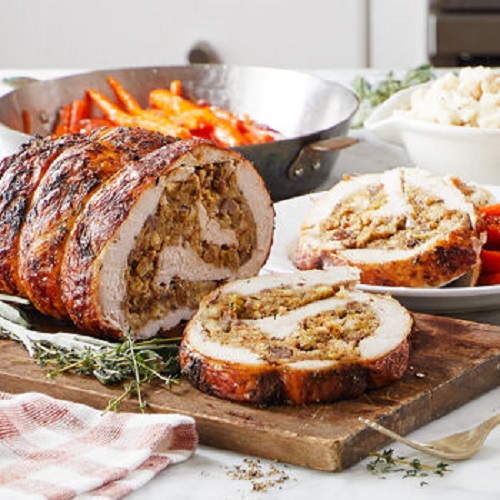 Ingredients
For the stuffing:
4 Tablespoons unsalted butter
1 medium onion, peeled and diced
2 stalks celery, diced
½ pound (8oz) ground sausage (sweet Italian works best)
1 teaspoon Stonewall Kitchen Turkey Seasoning Rub
10 oz seasoned stuffing mix
1 ½ cups low-sodium chicken broth (plus additional if needed)
1 egg, slightly beaten
For the turkey:
Directions
In a large sauté pan, melt the butter for the stuffing mixture.  Add the onion and celery and sauté until tender and fragrant, about 5 minutes.  Add the ground sausage and cook until browned through, chopping the sausage as it cooks with your spatula.
Add the Holiday Spiced Cranberry Sauce and Turkey Seasoning to the sausage mixture and mix to combine.  Remove from heat.
Place the stuffing mix in a large bowl and add the sausage mixture.  Add the chicken broth and the egg and continue to mix until uniform.  If stuffing seems too dry, add additional broth as needed. Set aside.
Preheat the oven to 425°F and position a rack in a roasting pan.
Place the turkey breast, skin side down, onto a large cutting board.  Cover with plastic wrap and, using a meat mallet, pound the breasts until they are about ½" thick and uniform. Sprinkle with salt and pepper. Remove plastic wrap and line the breasts with an even layer of the stuffing mixture, leaving the outer 1" empty.  (If you have any remaining stuffing mix you can place it into a greased oven-proof dish and bake it)
Tightly roll the turkey breast, starting at one of the short ends.  Roll it until it is formed into a large roast.  With the seam side down, tie with twine about every 2" along the roast and snip the ends of the twine.  Place the turkey, seam side down, onto the roasting rack.
Pat the turkey skin with paper towels until dry.  Rub the softened butter and seasoning all over the skin.
Place the turkey into the center rack of the oven and add a bit of water to the bottom of the roasting pan.  Roast the turkey for 30 minutes.  Reduce the heat down to 350°F and continue to roast until the internal temperature reaches 155°F, about 60-90 minutes. Add more water to the roasting pan as needed.
Remove from the oven, lightly cover with a foil tent and let rest for about 15 minutes before cutting and serving.