Sautéed Soft Crab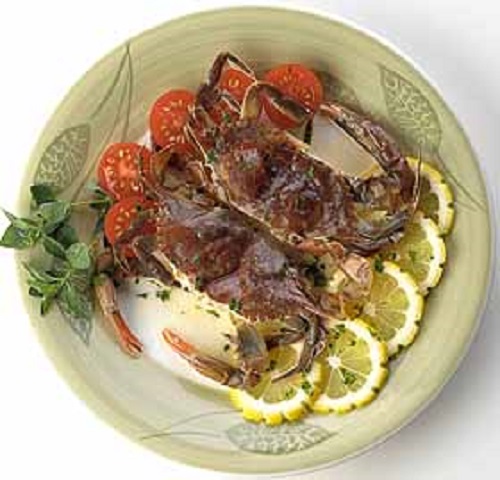 Recipe
Sautéed Soft Crab
2 cups dry white wine
½ cup olive oil, plus one tablespoon for sautéing
2 garlic cloves, one mashed, the other thinly sliced
¼ teaspoon freshly ground black pepper
1 teaspoon kosher salt, plus 2 teaspoons for seasoning
8 live soft shell crabs, cleaned with top shell intact (as directed below)
1 cup all-purpose flour
1 tablespoon unsalted butter, melted
¼ cup flat-leaf parsley leaves, roughly chopped
In a large metal bowl, whisk together the wine, oil, garlic, pepper, and 1 teaspoon of the salt. Place the crabs in the bowl and cover with plastic wrap. Marinate the crabs for 15 minutes at room temperature.
Place the flour in a medium shallow bowl. Slick a very large skillet with the remaining tablespoon of olive oil and place it over medium-high heat. Remove the crabs from the marinade, shake off the excess liquid, and transfer them to the bowl of flour. One at a time, coat both sides of all the crabs with flour (only a light dusting is necessary) and set aside.
Place half of the crabs into the hot skillet and sauté them for about 4 to 5 minutes per side, or until the crabs have reddened and are slightly crispy. Remove the crabs from the skillet and drizzle them with a few drops of butter, and sprinkle with a little of the parsley and some of the remaining 2 teaspoons of salt. Serve immediately.
Yield: 4 servings
To clean a soft shell crab, cut away the eyes and mouth with a sharp knife or scissors. Fold back one side of the top shell to expose the pale orange gills. Pull away and discard the gills from both sides of the crab. Turn the crab over and fold back the tail flap. Pull it away from the body and discard. The crab is now cleaned.