Sautéed Zucchini with Tomato
Sautéed Zucchini with Tomato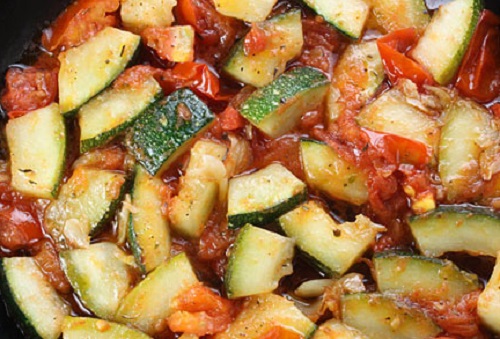 Ingredients
4 tablespoons of extra virgin olive oil
1 ½ lb. zucchini (about 4 medium or 6 small)
4 large fresh tomatoes
1 small onion, finely diced
Salt and pepper
Instructions
1. THE ZUCCHINI

Place the zucchini in a basin with cold water for a few minutes. Using a brush, gently scrub the zucchini under running water to remove any sand or down, the soft feathery substance that grows on the soft skin of the zucchini. Drain and pat dry with a kitchen towel. Cut off the stems and cut each zucchini in 3 or 4 pieces; then cut each piece lengthwise into 6 wedges. Set on the side.

2. THE TOMATO

 Wash and dry tomatoes. Split lengthwise, quarter and remove seeds and some skin. Chop into bits and set on the side

3. THE MAKING

In a 5 ½ quart sauté pan, over medium heat, place 4 tablespoons of oil and the diced onion. Cook over a medium heat until the sliced onions are translucent, for about 5 minutes, stirring occasionally. Add the dried tomato and sauté for additional 2 minutes.If using fresh tomato sauté for 5 minutes instead of 2 minutes.   Add the zucchini, salt and pepper to taste, cover with a tight lid and simmer for additional 5 minutes or until tender but firm. Using a slatted spoon transfer the zucchini into a large dish; serve immediately with crushed red pepper on the side.