Scallop Fettucine with Mushrooms, Spinach, & Roasted Garlic
Scallop Fettucine with Mushrooms, Spinach, & Roasted Garlic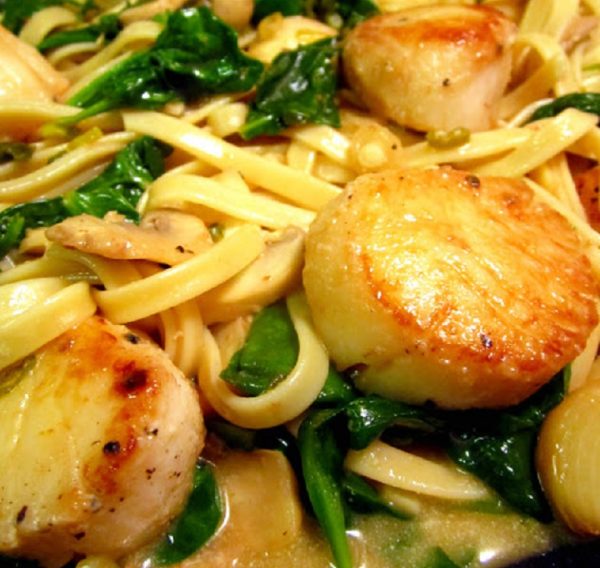 Ingredients:
1 lb Large Sea Scallops,

1 package ( 8 oz )  of mushrooms, cleaned and sliced

1 half stick of butter

3 sliced green onions

1 half ( 8 oz ) bag of baby spinach

2 heads of garlic

8 oz fettucine pasta

Olive oil

1 half cup of white wine or chicken stock

Juice of one lemon
Directions:
To make the roasted garlic, peel away the outer skin leaving a thin layer.  Barely cut off the top of the garlic.  Tear off a piece of aluminum foil.  Place the garlic heads on top, drizzle with olive oil, and close up the aluminum foil.  Cook in a 400 degree oven for 30 minutes.

Cook the pasta per package instructions.  Drain, then pour into a bowl.  Drizzle with a little olive oil and toss to mix.

Melt half of the butter in a nonstick pan with a drizzle of olive oil.  When hot, add the scallops.  Cook about 4 minutes per side or until the top and bottom are nicely browned.  Then remove scallops from the pan and add to the pasta.

To the pan, add more butter with the mushrooms and lemon juice.  Add the green onions and toss to cook.  Add the white wine.  Turn up the heat for one minute to let the alcohol cook off.

Add more butter if you want more sauce, until it is the consistency that you like.  Add the spinach in the end.  It doesn't take long to wilt.  Then add the pasta and scallops back in.

The roasted garlic is easy to remove once it's cooled.  You can squeeze it out or you can peel away the skin.  Add to the pan, and you're done!