Scallops with Garlic in a tomato cream sauce
Scallops with Garlic in a tomato cream sauce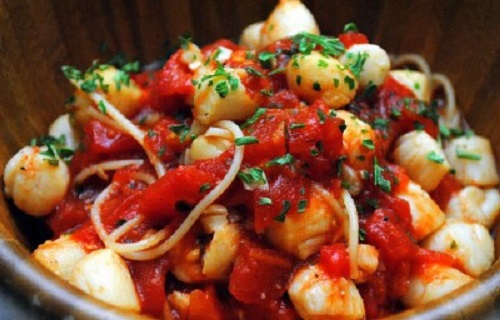 INGREDIENTS
1 pound of angel hair pasta

1 pound of bay scallops

2 shallots chopped

4 cloves of garlic chopped

3 Tbls of butter

1 Tbls of extra virgin olive oil

1 15 oz can of diced tomatoes

8 oz of heavy whipping cream

1/2 cup of freshly chopped parsley

1/4 tsp of salt

1/4 tsp of fresh ground black pepper

PREPARATION

In a heavy skillet heat the butter and olive oil.

Sauté garlic and shallots for around 1 minute

Add scallops and sauté around 2 minutes more. Not to long or scallops will end up tough and rubbery.

Stir in tomatoes for about 2 minutes

Add salt and pepper

Stir in whipping cream

Heat through until cream is thick and bubbly.

Boil 4 quarts of water and cook pasta for about 3 minutes

Drain pasta, plate and top with scallops and sauce.

Sprinkle with fresh parsley.