Schiacciata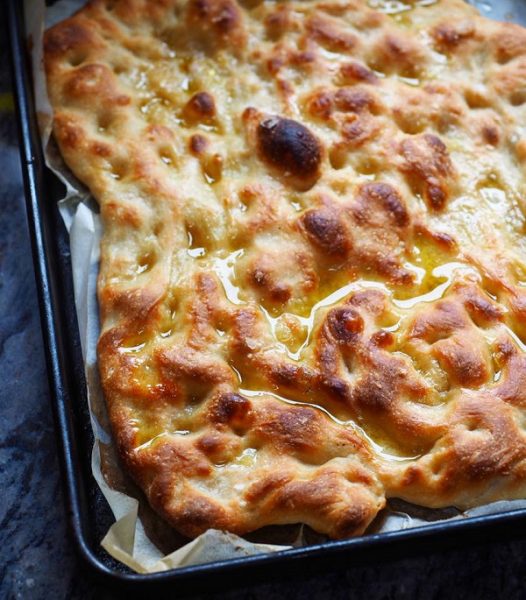 You may call it schiacciata, pizza bianca or focaccia toscana, but the fact remains that Italians simply adore it!
Schiacciata is an intrinsic part of an Italian upbringing and it is more often than not confused with its more notable cousin, Focaccia. Although the two bare an obvious resemblance, they differ greatly in texture. Schiacciata ditches the soft, chewy texture in place of an irresistibl

e crispy crust, each bite so satisfying you will find yourself licking your finger in between morsels, oblivious of social niceties and table manners. Such ineffably light crunch is the result a long fermentation of the dough. It is easy enough to make, especially now that we have the time. Good luck finding the flour though!!!
INGREDIENTS.
serves 4

4 cups 00 type flour (or plain)

1 teaspoon of dry yeast

1-1/4 cup lukewarm water

1/2 teaspoon of sugar

2 teaspoons of salt flakes+ more for sprinkling on top

Extra-virgin olive oil, to grease the bowl and to drizzle on top.

1. Dissolve yeast and sugar in water.
2. Place flour in a large mixing bowl, add the yeasted water and mix for 1-2 minutes, then tip the dough onto a floured surface, add the salt and knead for 10 minutes or until the dough is smooth and elastic. Shape it into a ball. You want a soft, pliable dough, but not too sticky.
3. Rest the dough in an oiled bowl, covered with a tea-towel for 30 minutes, then lift it out, place it back onto a floured surface, stretch it with your hands and fold it into three and then back into a ball. Put the dough back in the bowl to rest for another 30 minutes, then stretch and fold again. Roll into a ball, then place into an oiled bowl to rise for 6-8 hours until doubled in size.
Preheat you oven to 200 C. Roll the dough onto a a sheet of baking paper to 1/2 cm thick. (The thinner, the crunchier)Drizzle with oil, season with salt and bake for 25-30 min or until golden. Drizzle with a little more oil and salt and serve!