Scungilli Salad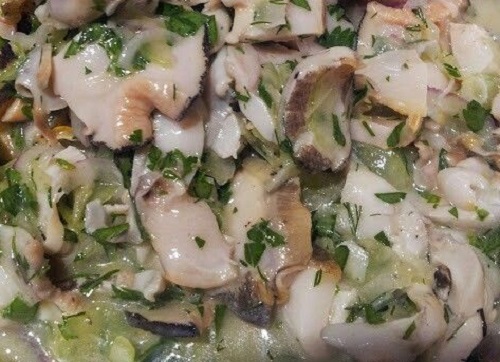 1

(29 ounce) can

scungilli, frozen or fresh

1

cup

celery

, sliced thin

1 1⁄2

tablespoons

Italian parsley

, chopped

1 1⁄2

tablespoons

cilantro

, chopped

2 1⁄4

ounces

black olives

, pitted and sliced

2 -3

garlic cloves

, sliced very very thin (garilic can also be grated)

5

tablespoons

extra virgin olive oil

1⁄2

lemon zest

2

tablespoons

fresh lemon juice

1⁄8

teaspoon

celery seed

1 -2

teaspoon

sea salt

fresh ground pepper

(to taste)

fresh ground

red pepper flakes

(to taste)

lettuce
DIRECTIONS
Drain the scungilli and rinse under cold water.

Sliced in bite-size pieces (if not already sliced).

Toss sliced scungilli, celery, olives, garlic, salt and peppers.

Mix together oil, lemon juice, lemon zest, salt, pepper cilanto and parsley.

Add to scungilli mixture.

Refrigerate and marinate for at least 30 minutes (or longer).

Serve on a bed of lettuce.

Most often scungilli is sold frozen and already shelled, although depending on where you live, you may be able to buy them fresh.

If you do buy them frozen, defrost them in the refrigerator before cooking.

To clean the scungilli after cooking, remove any hard cartilage you might find at the large end of the snail in addition to the brown sac that runs along the outer side and rinse before slicing.
Fresh
Prepare  for cooking.
If you have collected them yourself, you will need to remove the meat from the shell. If it is difficult to remove, drill a small hole in the top of the shell to break the suction and then it should be fairly easy to pull them out of the main opening of the shell.

Wash  in several changes of water.

Use only the muscle  for food. The digestive gland must be removed for the meat to be safe.

Before you can cook  you must remove the operculum. The operculum is a shell-like covering that protects the conch and assists in locomotion. Cut it off with a knife