Sicilian Cauliflower Salad
Sicilian Cauliflower Salad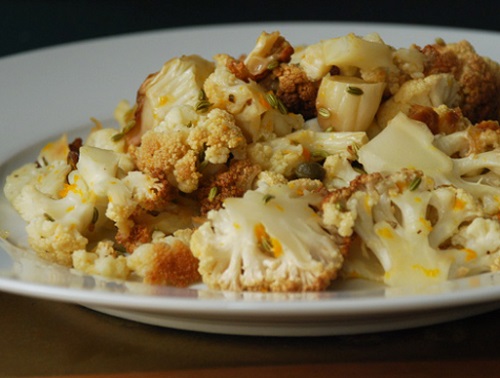 Ingredients:
Serves 6.
1 head cauliflower, cut into florets
2 tablespoons plus 1/2 teaspoon salt
3 tablespoons red wine vinegar
1/3 cup extra virgin olive oil
Freshly ground black pepper
1/2 cup pitted black olives, minced
1/4 cup capers, drained
1/4 cup gherkins (sour baby pickles), minced
1 tablespoon minced Italian parsley
4 anchovies, chopped
2 hard-boiled eggs, shelled and minced
Directions:
Bring 3 quarts of water to a boil.
Drop in the cauliflower florets and 2 tablespoons of the salt; cook until tender-crisp, about 3 minutes, then drain and shock in ice water; drain again.
Place the cauliflower florets in a bowl.
Add the remaining 1/2 teaspoon of salt, the vinegar, olive oil, pepper, olives, capers, gherkins, parsley and anchovies, and set aside to marinate, tossing once in a while, for 1 hour to 6 hours at room temperature.
Sprinkle with the hard-boiled eggs and enjoy.