Sicilian Lemon Tart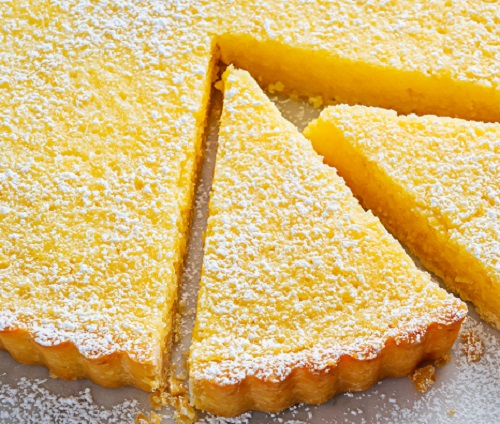 Ingredients:
For the Pie dough:
1 and 1/4 cups all-purpose flour
5 tsp superfine sugar
1/2 cup butter, cut into small pieces
1 tbsp water
For the Filling:
2/3 cup heavy cream
1/2 cup superfine sugar
4 eggs
Grated rind of 3 lemons
9 tbsp lemon juice
Confectioner's sugar for dusting
Directions:
To make the pie dough, place the flour and sugar in a bowl and rub in the butter using your fingertips.
Add the water and mix until a soft pie dough has formed.
Wrap and chill for 30 minutes.
On a lightly floured surface, roll out the dough and line a 10-inch loose-bottomed quiche pan.
Prick the pie dough all over with a fork.
Line the pie shell with foil and dried beans and bake blind in a preheated oven at 375 degrees for 15 minutes.
Remove the foil and beans, return to the oven and cook the pie shell for another 15 minutes.
To make the filling, whisk the cream, sugar, eggs and lemon rind and juice together.
Place the pie shell, still in its pan, on a cookie sheet and pour in the filling.
Bake in the oven for about 20 minutes, or until just set.
Let cool then lightly dust with confectioner's sugar before serving.
Note: You might need to add more than 1 tbsp. of water to make the dough stick together.