Sicilian Strata Recipe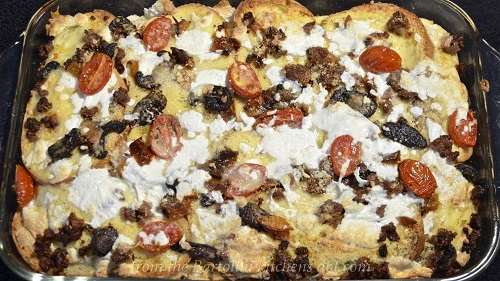 Ingredients
1 lb Italian sausage meat, from links or patties (See Notes)

extra virgin olive oil

6 mushrooms, sliced

1 orange bell pepper, chopped

6 Spring onions (scallions) chopped

1 loaf Italian bread, sliced

1/2 cup Pecorino Romano cheese, divided – Parmigiano Reggiano may be substituted

8 oz (225 g) ball of fresh mozzarella, grated, divided

1 dozen cherry/grape tomatoes, sliced, divided

9 large eggs

3 cups whole milk

salt and pepper, to taste

chopped parsley for garnish
Directions
In a large frying pan over med-high heat, sauté sausage meat until browned. Remove to a dish and reserve.

In the same pan, sauté mushrooms until just about cooked through, about 5 minutes. If needed, add some additional olive oil.

Add the onions and peppers to the pan and sauté until soft, another 5 minutes.

Return sausage to the pan, mix, and heat through. Remove from heat and reserve.

In a large mixing bowl, whisk together the eggs, milk, salt, and pepper until well-combined.

Use oil spray, vegetable oil, or butter to lightly grease a large baking dish.

Build the strata:

Cover the bottom of the dish with a layer of bread slices.

Sprinkle half of the sausage mixture over the bread.

Add half of the tomatoes.

Sprinkle half of the grated Pecorino Romano cheese on top.

Finish this layer by adding half of the mozzarella cheese.

Add another layer of sliced bread.

Cover this layer with the remaining sausage mixture and tomatoes.

Carefully pour the egg mixture over the top of the entire dish.

Finish the strata by sprinkling the rest of the Pecorino Romano and mozzarella on top.

Cover and refrigerate for at least one hour or overnight.

Pre-heat oven to 350˚ F (175˚ C).

Remove cover and bake in the center of the pre-heated oven until the eggs are set and the top is lightly browned, about 40 to 50 minutes. It should have a reading of no less than 165˚ F (74˚ C) on an instant-read thermometer. (See Notes)

Allow to rest for 5 to 10 minutes before garnishing with parsley and cutting into squares for serving
Notes
If using links, be sure to remove the sausage meat from the casings before cooking.
If using fresh mozzarella, it will be much easier to grate if you place it in your freezer for 30 to 45 minutes before grating.
Allowing the strata to come up to room temperature before baking will reduce baking time. As a precaution since you're using raw egg, do not let the raw strata sit unrefrigerated for more than a half-hour, especially if you've a warm kitchen.
https://fromthebartolinikitchens.com