Sole Fillets with Lemon Parsley Butter
Sole Fillets with Lemon Parsley Butter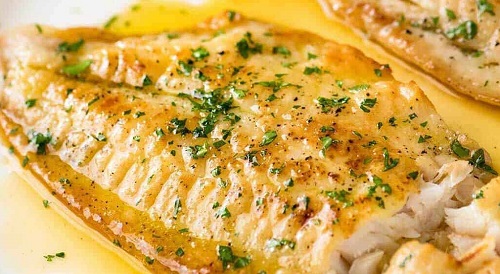 Sole is one of the many fish in the flatfish family that you can use with this recipes. Other fish such as flounder, turbot and halibut taste just as delicious with this simple lemon parsley sauce.
Serves 4 people.
INGREDIENTS
2 pounds of fresh fish fillets

3/4 cups of all purpose flour

3 Tbls of butter

1 Tbls of extra virgin olive oil

1/4 cup of fresh squeezed lemon juice

1/4 cup of Italian flat leaf parsley, chopped

1/2 tsp of salt

1/2 tsp of fresh ground black pepper

PREPARATION

Lightly dust the fillets in the flour. Pat off excess flour.

In a well heated frying pan, add the butter and olive oil.

Once the butter has melted, place the fillets in the pan.

Season with salt and pepper and sauté for 30 seconds.

Carefully turn the fillets over and season and sauté for another 30seconds.

Add the lemon juice and the parsley and cook for 15 to 20 seconds more.

Transfer the fillets to a serving platter and pour the parsley butter sauce over the top.

Serves 4 people.