SOUP WITH COD AND SWISS CHARD
SOUP WITH COD AND SWISS CHARD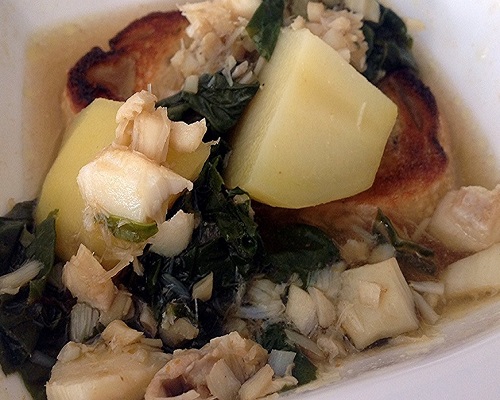 Serves: 6
Prep: 20 minutes
Cook: 30-40 minutes
Ingredients
1 lb. Fresh or Salt Cod – if using salt cod- Salt Cod must be soaked in cold water for at least 24-48 hours, changing the water several times
 The fresh cod is fine but will flake more than the salt cod. Either way!
1/4 Cup Olive Oil
1 large bunch Swiss Chard – rainbow or silverbeet (regular)
3 Cloves fresh garlic – you can chop finely or add whole cloves.
1 Tbsp. fresh Thyme – chopped
2 sprigs of mint
Pinch red pepper flakes
8 c. Vegetable Broth
3 Yukon Gold Potatoes cut up and peeled
Slices of Crusty bread – brushed with olive oil and toasted under broiler in oven
Salt and pepper
Instructions
In a deep pot, saute garlic for a minute in olive oil to infuse.
Clean the swiss chard by rinsing with cold water a few times, drain, and cut up.
Cut up the cod and add to the pot along with the swiss chard, herbs, potatoes, and red pepper.
Cook about 5 minutes tossing gently in the oil.
It will seem like a lot of greens, but they cook down fairly quickly and reduce greatly.
Then add the broth, stir, and bring to a boil. Reduce heat and simmer uncovered for 30-40 minutes until the potatoes are fork tender.
Correct your seasoning by adding salt and pepper as needed.
 Place a slice of the toasted bread in each dish. Ladle the soup over the bread.