Spaghetti Vongole (Spaghetti with Clams and White Wine)
Spaghetti Vongole (Spaghetti with Clams and White Wine)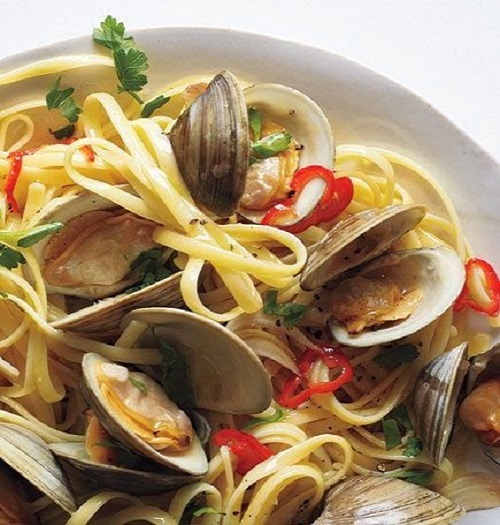 Spaghetti vongole is one on the most popular Italian classics.
INGREDIENTS, serves 4 
350 gr (3/4 packet) of Spaghetti or Linguine
2 Garlic cloves
1 red chilie (or half, according to what heat intensity you can handle)
Parsley (leaves and the tender bits of the stalks), about 1/3 cup
1 kg (2 lb) of Vongole *
Good quality extra Virgin Olive Oil, about 4 tablespoons
Good quality dry white wine**, about 1/3 cup
Chopped parsley to serve
HOW TO
1. Fill a large pot of salted water and bring to a fierce boil.
2. Take your spaghetti or linguine, drop it the pot, stir through so that they don't get stuck to the bottom and let it bubble away for 5 minutes, stirring occasionally.
3. While the pasta is boiling, put a large frying pan on the stove with a little extra-virgin olive oil. Heat it up and drop in garlic, chilly and parsley mix and let sizzle for about 15 seconds, then add a good splash of white wine and let the alcohol evaporate. Taste for salt and adjust accordingly, keeping in mind that vongole will add their sapid kick to the dish.
4. Drop your clams in, cover with a lid. They will take about 2 to 3 minutes to open up and release their beautiful juices. Once opened, lift them out with a slotted spoon and set aside.

5. Drop your 3/4 cooked pasta in the vongole and wine juice adding some of the pasta cooking water***, enough so the spaghetti can finish to cook until al dente and the sauce creamy in texture.

Turn off the heat and add your cooked vongole, chopped up parsley leaves and extra chillie, if you like it.
Serve immediately!

Buon Appetito!
TIPS:
* Vongole are alive when you buy them and you want to make sure they are still alive before you cook them!
Soak them in cold, salted water as soon as you bring them home from the shop and keep them in the fridge. Discard any ones that come to the surface, or have broken shells at this point. They are dead. Trust me, you don't want to cook with a dead clam!
Change the water once or twice. This way they will release the sand they have trapped inside
**Don't skimp on the quality of your wine. As a rule, if it's not good enough to drink, don't use it for cooking.
***We call it "acqua di cottura". It is full of starch and it will help bind the sauce together without having to add extra ingredients. This is a clever little secret in Italian cooking.