Spicy Linguine with squid
Spicy Linguine with squid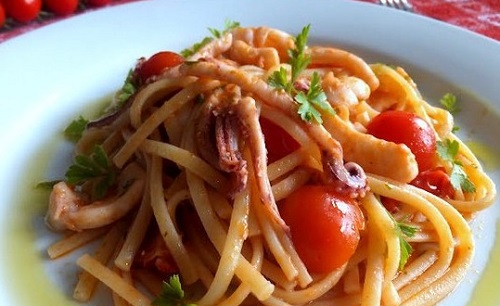 Ingredients
   10 oz  fresh squid
    3.5 oz cherry tomatoes
   1 chilly pepper
   Drop of  white wine
   1 tbsp chopped parsley
   3  cloves of garlic
   4 tbsp olive oil
    8 oz pasta linguine
   4 tbsp tomato sauce
Instructions
Clean the squid and chop it into rings.
Chop the garlic and stir fry it in a pan with 1 tbsp of olive oil,  add the squid, the chopped chilly, the wine and cook for 3 minutes uncovered.
Add the tomato sauce and the chopped tomatoes and stir it all in.
Switch the heat off.
 Cook the linguine for a couple of minutes less than it says on the packet, drain them and add them to the pan with the squid.
Turn the heat on and carry on cooking the pasta with the sauce for the remaining couple of minutes adding the chopped parsley and 3 tbsp of olive oil as well.
Stir well and serve.