Spicy shrimp pasta in a garlic tomato sauce
Spicy shrimp pasta in a garlic tomato sauce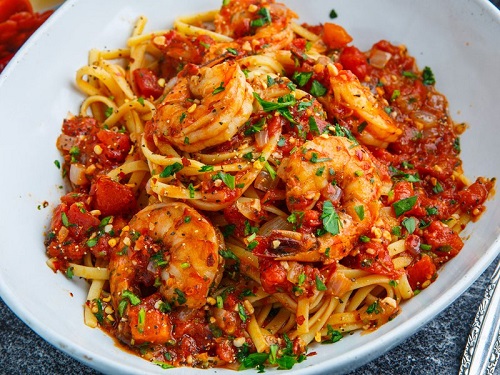 Ingredients
 4 people
Pomì organic chopped tomatoes 27 ounce
Clam juice 1/3 cup
Cloves garlic, chopped   6
Olive oil 2 tablespoons
Onion    1, diced
Oregano 1 teaspoon
Parsley, chopped 2 tablespoons
Pasta (such as linguine) 8 ounces
Red pepper flakes 1 teaspoon (or to taste)
Salt and Pepper to taste
Shrimp, peeled and deviened    1 pound
Preparation
Start cooking the pasta and directed on the package.
Meanwhile, heat the oil in a large saucepan over medium-high heat, add the shrimp and cook until just pink, about 1-3 minutes per side, before setting aside.
Add the onion and cook until tender, about 3-5 minutes, before adding the garlic, red pepper flakes, and oregano, and cooking until fragrant, about a minute.
Add the tomatoes and clam juice, bring to a simmer and cook for 3 minutes before seasoning with salt and pepper to taste.
Add the shrimp, pasta and parsley, mix and enjoy your spicy shrimp pasta!