Spiedini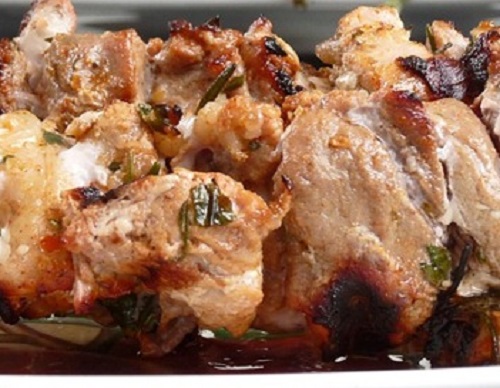 Makes: marinade for about 4 pounds of meat (6-8 people)
Prep: 15-20 minutes for marinade
Cook: 10-15 minutes
Ingredients: (important to use fresh ingredients where specified)
4 lb. Tender leg of lamb and/or pork tenderloin, or venison, or chicken breast – cut up into pieces about 1 1/2 inches
1 1/2 c. Olive Oil
Zest of 1 fresh lemon
Juice of a Large Fresh Lemon
1 Tbsp. Tomato Paste mixed with the lemon juice or vinegar
1/3 c. Balsamic Vinegar
1/3 c. Dry Red Wine
5 Cloves Fresh Garlic
2 Tsp. sugar
1 Tsp. Red Pepper Flakes
1 Tsp. Paprika
1 Crushed Large Bay Leaf
1 Tbsp. Fresh Thyme or Lemon Thyme
3 Tbsp. Fresh Rosemary – chopped
1 Tbsp. Fresh Mint – chopped
2 Tbsp. Fresh Oregano – chopped
3 Tbsp. Fresh Basil – chopped
3 Tbsp. Fresh Parsley – chopped
2 1/2 Tsp. Kosher Salt or more ( make sure to be generous with the salt as it brings out the flavors)
Plenty of Freshly Ground Black Pepper
Good Italian Bread
Instructions:
Meat should be cut and ready before making the marinade.
Mix all above marinade ingredients together well. A whisk is a good tool for this. If the marinade sits – re-whisk. Use fresh ingredients where indicated.
TASTE the marinade!! Especially taste for salt. Plenty of salt and pepper is important. This brings out the flavor. If you don't add enough – your spiedies will be bland.
Add the marinade to the meat immediately.
Mix thoroughly, coating all the meat. Using your clean hands to do this is a good idea.
Cover and refrigerate. I recommend marinating overnight or at most one more day. There is great controversy about this. Read the above text for the reason why I choose a shorter time.
Stir the meat once during the marinating process.
Skewer the meat just before grilling.
Place skewers on a VERY hot grill – close cover and SEAR quickly on all sides. Ideally you will have grill marks on the meat.
Turn down the heat on the grill or move the skewers to a spot not as hot – use gloves – the skewers will be very hot. Finish the spiedies at a more moderate temperature. They don't take long.
It is not recommended to keep using a marinade that raw meat has been sitting in. Discard the extra when finished.
Do not dry them out by over cooking. The cooking process should be fairly quick on a hot grill. Taste one! or two…or…
Take them off the skewer with a slice of Italian Bread. Plan on about 4-5 spiedies per slice of bread.