Spinach and Cheese Strata
Spinach and Cheese Strata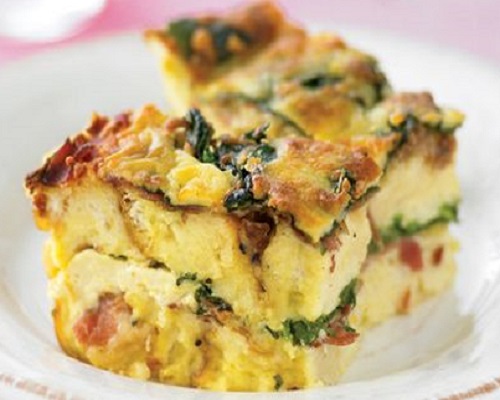 Ingredients:
Makes 6 to 8 servings.
1 (10-oz) package frozen spinach, thawed
1 and 1/2 cups finely chopped onion (1 large)
3 tablespoons unsalted butter
1 teaspoon salt
1/2 teaspoon black pepper
1/4 teaspoon freshly grated nutmeg
8 cups cubed (1 inch) French or Italian bread (1/2 lb)
6 oz coarsely grated Gruyère (2 cups)
2 oz finely grated Parmigiano-Reggiano (1 cup)
2 and 3/4 cups milk
9 large eggs
2 tablespoons Dijon mustard
Directions:
Squeeze handfuls of spinach to remove as much liquid as possible, then finely chop.
Cook onion in butter in a large heavy skillet over moderate heat, stirring, until soft, 4 to 5 minutes.
Add 1/2 teaspoon salt, 1/4 teaspoon pepper, and nutmeg and cook, stirring, 1 minute.
Stir in spinach, then remove from heat.
Spread 1/3 of bread cubes in a buttered 3-quart gratin dish or other shallow ceramic baking dish and top evenly with one third of spinach mixture.
Sprinkle with one third of each cheese.
Repeat layering twice (ending with cheeses).
Whisk together milk, eggs, mustard, and remaining 1/2 teaspoon salt and 1/4 teaspoon pepper in a large bowl and pour evenly over strata.
Chill strata, covered with plastic wrap, at least 8 hours (for bread to absorb custard).
Preheat oven to 350°F.
Let strata stand at room temperature 30 minutes.
Bake strata, uncovered, in middle of oven until puffed, golden brown, and cooked through, 45 to 55 minutes.
Let stand 5 minutes before serving.
Note: Strata can be chilled up to 1 day. Let stand at room temperature 30 minutes before baking.