Spinach-and-Sausage-Stuffed Peppers
Spinach-and-Sausage-Stuffed Peppers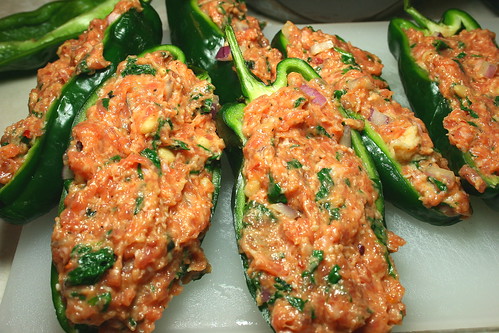 Ingredients:
1 (5 oz) bag baby spinach leaves.

2 slices white sandwich bread, finely chopped

1/4 cup milk

1 large egg

2 Tablespoons freshly grated Parmigiano-Reggiano cheese

2 Tablespoons pine nuts

2 Tablespoons chopped red onion

1 pound sweet or hot Italian sausage

Salt and pepper to taste

4 large or 8 small poblano peppers

1/4 cup extra virgin olive oil

1 cup canned tomato sauce

1 cup low-sodium chicken broth
Directions:
In a very large skillet, cook the spinach on high heat until just wilted, about 1 minute. Drain and press out the excess water; chop.

In a large bowl add the chopped bread, egg, milk and cheese; knead into a paste.

Slice the sausage casing and remove the meat from the casing. To the bread mixture add the sausage meat, pine nuts, onions and spinach. Salt and pepper to taste. Knead all ingredients together with clean hands until well combined.

Slice peppers in half lengthwise, leaving stems intact. Remove seeds and membranes. Stuff with meat mixture.

In large skillet, heat oil until shimmering.

Place stuffed peppers, filling side down, in skillet and cook over high heat until well browned, about 4 minutes. Flip peppers over and repeat on bottom side, cooking another 4 minutes.

Combine chicken broth and tomato sauce, pour over peppers in skillet. Cover and cook until meat is cooked through and peppers are tender, about 5-8 minutes.