STRAWBERRIES AND RICOTTA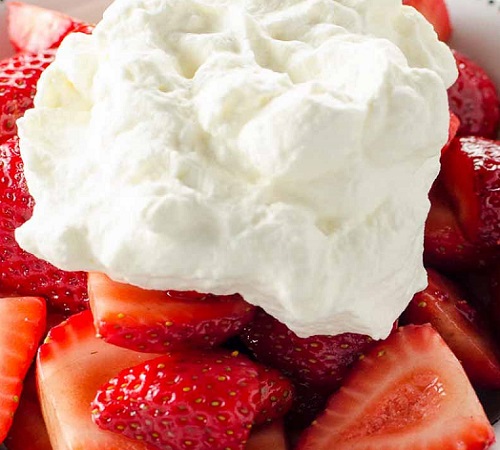 Prep: about 20 minutes + time to "marinate" the berries
Ingredients
Serves: 4
8 oz. Fresh Ripe Strawberries, cleaned, hulled, and sliced
2 1/2 Tbsp. Sugar
1/2 C. Rum, Limoncello, or Vin Santo
1 1/2 Cups Whole Milk Ricotta
2 Additional Tbsp. Sugar
2 Egg Whites – whipped until stiff
Fresh Basil and Extra Whole Strawberries for garnish
Instructions
Add the sugar and your choice of Rum, Limoncello, or Vin Santo to the sliced strawberries. Toss, cover, and let sit in refrigerator for a few hours.
In the meantime, drain the ricotta of any extra liquid by pressing through a strainer. (Sometimes there is no liquid to drain)
When ready to serve, drain the berries and discard the soaking liquid, (Rum, Limoncello, or Vin Santo),add them along with the additional sugar to the ricotta and combine.
Fold in the whipped egg whites.
Spoon into glasses, garnish and serve immediately or within a few minutes. Do not let this sit in refrigerator for hours as it will begin to liquefy.