STRAWBERRY CHEESE CAKE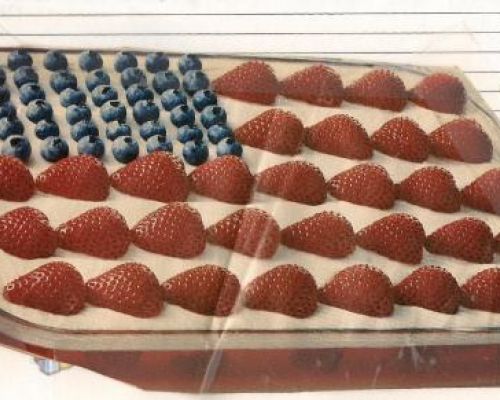 by
This is a very easy to make summer dessert cake. In this case it's decorated for the 4th July. Other fruit toppings and decorations can be used to change the Holiday theme, but it's mostly for summer. And with an Happy Birthday sign, will make a perfect 4th July birthday cake, very refreshing!
Ingredients
For
12

Person(s)
1

quart strawberries cut in half

1

1/2 cup boiling water

1

package (8 servings) or (2 pack, 4 servings) Jello, any red flavor, I use strawberry

1

cup cold water plus ice cubes

1

package 12 oz. pound cake (cut into 10 slices)

1

1/3 cup blueberries

2

packages of 8 oz. each Philadelphia cream cheese

1/4

cup sugar

1

tub 8 oz. Cool whip topping (thawed)
Directions
Prepare Jello by adding boiling water until completely dissolved.

Add ice cubes to cold water enough to make 2 cups.

Add to gelatin, stir until ice melts and refrigerate for 5 minutes or until slightly thickened (consistency of an unbeaten egg white)

Meanwhile, line a 13×9 inches dish with cake slices

Stir sliced strawberries and 1 cup of blueberries into thickened gelatin and spoon over cake slices.

Refrigerate again for about 4 hrs. or until firm

Beat cream cheese and sugar until smooth, stir in whipped topping.

Spread the mixture over gelatin.

Arrange the rest of strawberries cut in half and remaining blueberries on top to create American flag, and voila', all done.

Serve it cold.