Stuffed Focaccia Syracuse's Style
Stuffed Focaccia Syracuse's Style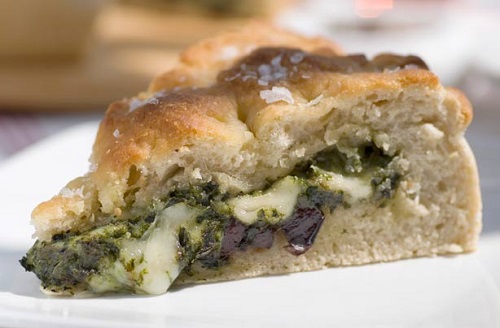 Ingredients
For the Dough
2 lb fine semolina flour
2 oz fresh active yeast or 3 envelopes of dry yeast
3 tablespoons olive oil
½ teaspoon sugar
Pinch of salt
Or buy 2 lb of bread dough in your local Italian bakery.
For the Filling
2 bunches broccoli rabe, tough stems removed, cut 1 inch from bottom and rinsed
3 tablespoons olive oil
2 garlic cloves, chopped
1 lb sausages, preferably the thin sausages called "Cervellata"
¼ lb young Caciocavallo cheese, cut in ¼-inch cubes
Salt and pepper
For Baking
1 tablespoon lard or 2 tablespoons olive oil for washing
Instructions
1. The Dough

In a bowl, mix ½ cup of warm water with the yeast. Add the sugar and ½ cup of the flour and mix until well blended and a soft dough is formed. Should it be too dry, add some water; if it is too watery, add flour. Set aside, covered, in a warm place. After 45 minutes to 1 hour, combine risen dough with remaining flour, add some lukewarm water, the oil and a pinch of salt and knead to obtain an elastic dough, similar to bread dough. Make a ball, cut across the top to allow it to rise, cover and put in a warm place until it almost doubles in size, 1 to 2 hours.

2. The Filling

In a 4-qt. saucepan, bring to a boil about 2 quarts of water with ½ tablespoon of salt. Dip broccoli in the boiling water to blanch them and remove as soon the water returns to a boil. Drain and set aside. In a 4-qt. saucepan, over a medium flame, heat 3 tablespoons of olive oil and the garlic. Add broccoli rabe and sauté for 7 to 10 minutes, until tender. Add salt and pepper to taste. Remove from flame and, using a slotted spoon, place in a colander to drain. Set aside. Using the oil and liquid left from the broccoli, cook the sausage, cut into 1-inch pieces, over medium heat for 15 minutes or until cooked, stirring occasionally. Remove from flame using a slotted spoon and place in the colander with the broccoli to drain. In a bowl, mix the sausage and the broccoli rabe until they are blended well.

3. Making the Impanata

When dough is ready, split it into 2 pieces. Briefly knead each piece and roll one piece out to cover a greased pan (13 x 9 x 2 inches). Spoon the filling over it; add the cubed cheese, making sure to leave the edges free of filling. Knead the other piece of dough and, before rolling it, moisten the edge of the impanata. Place on top of the dough with the filling and pinch firmly to seal it well. Cut 2 or 3 slits on top to allow the vapor to escape.

4. The Baking

Preheat at 375 degrees, bake for 15 minutes and then take it out of the oven. Wash top of impanata with lard or olive oil. Return to oven for an additional 15 to 20 minutes until light golden brown.