Stuffed fried olives (olive all'ascolana)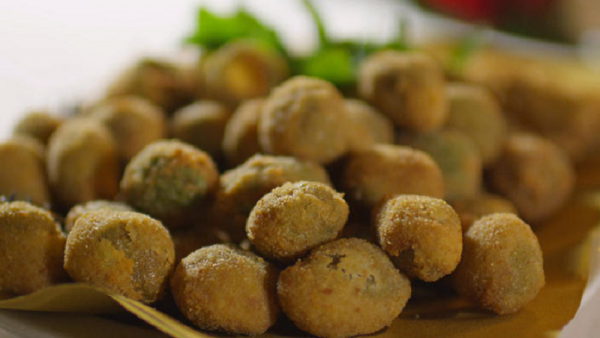 Stuffed fried olives are a local specialty in Italy's Marche region. Far from your average snack, these meaty gems are filled with a mixture of braised pork, chicken and vegetables. We've used pitted olives in this recipe, but if you feel like doing it for yourself, watch the video for tips.
Ingredients
30 large green olives, pitted
4 eggs, plus extra if needed
2 cups (300 g) plain flour
⅔ cup (50 g) dried breadcrumbs
sunflower oil, for deep-frying
Stuffing

2 tbsp extra virgin olive oil
1 small brown onion, roughly chopped
1 small carrot, roughly chopped
1 small celery stick, roughly chopped
150 g pork sausage meat, removed from its casing
100 g chicken thigh fillet, cut into cubes
150 ml white wine
salt flakes
2 tbsp fresh breadcrumbs (see below)
2 tbsp freshly grated parmigiano or pecorino
1 tbsp finely chopped flat-leaf parsley
¼ tsp freshly grated nutmeg
finely grated zest of ½ lemon
Cook's notes
Oven temperatures are for conventional; if using fan-forced (convection), reduce the temperature by 20˚C. | We use Australian tablespoons and cups: 1 teaspoon equals 5 ml; 1 tablespoon equals 20 ml; 1 cup equals 250 ml. | All herbs are fresh (unless specified) and cups are lightly packed. | All vegetables are medium size and peeled, unless specified. | All eggs are 55-60 g, unless specified.
Instructions
Soaking time 30 minutes
Resting time 30 minutes
Place the olives in a bowl of cold water for 30 minutes to get rid of the briny flavour. Dry them and set them aside.
To make the stuffing, heat the olive oil in a large frying pan over medium heat, add the onion, carrot and celery and cook until softened. Add the pork and chicken meat and brown well. Pour in the wine and cook over high heat for 1–2 minutes or until the alcohol has evaporated, then reduce the heat to low, season with salt and cook for 15–20 minutes or until the meat is cooked through. Remove from the heat and stir in the breadcrumbs, then set aside to cool for 10 minutes. Transfer the mixture to a food processor and blitz for 10–15 seconds or until it looks like a thick paste. Scrape the paste into a large bowl and add the cheese, parsley, nutmeg and lemon zest. Taste for salt and adjust accordingly.
Beat the eggs in a separate bowl, then mix 3 tablespoons of the beaten egg through the stuffing (reserve the rest for later). Rest for 30 minutes.
Cut a slit in each olive and fill with ½ teaspoon stuffing. Roll the filled olives in the flour, then in the reserved beaten egg, and finally in the breadcrumbs. Roll them one last time in egg and breadcrumbs to create a super-crunchy double coating. You may need to replace the breadcrumbs halfway through rolling, as the wet egg mixture will inevitably make it a bit too sticky to be workable. Likewise, you may need to add an extra egg or two if the olives absorb more than you predict.
Half-fill a large frying pan or deep-fryer with sunflower oil and heat over medium–high heat to 180°C or until a cube of bread browns in 15 seconds. Add the stuffed olives in batches and fry for 3–4 minutes or until golden. Remove with a slotted spoon and drain on a plate lined with paper towel. Serve hot, warm or at room temperature.
Notes

• You can double the quantities and freeze half the stuffed and crumbed olives, ready to deep-fry from frozen when you need them. Arrange them on a flat tray, without overlapping, and freeze them for about 2 hours. Then you can transfer them into a zip-lock bag. They will keep for up to 4 weeks.
• Any leftover stuffing mix can be turned into mouthwatering meatballs or filling for ravioli.
Breadcrumbs
• To make breadcrumbs, simply blitz stale bread in a food processor until coarsely chopped. The breadcrumbs will keep in the fridge for up to 1 week.