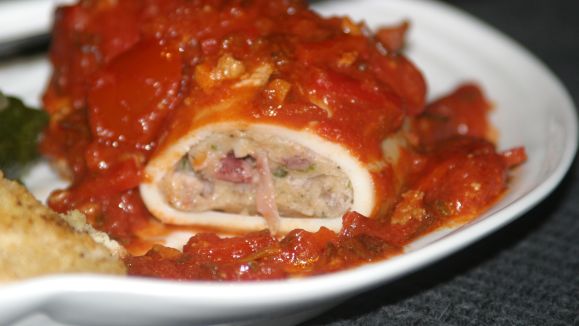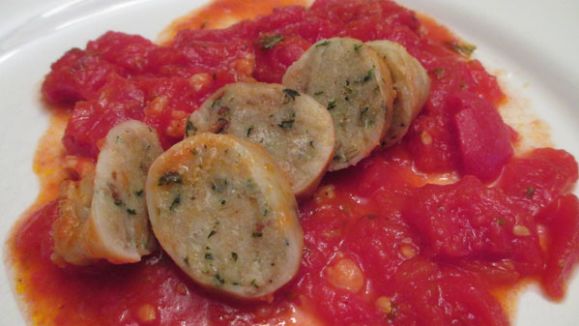 6

medium

squid

1⁄4

cup fine bread crumbs

2

tablespoons

fresh parsley leaves

2

teaspoons

fresh parmesan cheese

2

teaspoons

minced garlic cloves

1

egg

salt and pepper

2

garlic cloves

1

(8 ounce) can

diced tomatoes

1

teaspoon

basil

1⁄2

teaspoon

ground oregano

1⁄2

teaspoon

ground rosemary

1⁄4

cup

green pepper

1⁄4

cup

dry white wine
DIRECTIONS
Clean squid or tubes and pat dry.

If using whole squid, chop tender parts of the tentacles and mix them with the bread crumbs, parsley, cheese, 1 1/2 teaspoons minced garlic, egg and 1 teaspoon vegetable oil to make stuffing.

Blend well, add salt and pepper to taste.

Spoon stuffing mixture loosely into each squid tube and close with a toothpick. Do not over stuff because the squid will shrink during cooking.

Add remaining oil to skillet large enough to hold squid in a single layer.

Heat oil and cook sliced garlic until golden brown. Arrange the squid in oil and brown all sides lightly.

Add tomatoes, basil, oregano, rosemary, green pepper, remaining minced garlic, wine and salt and pepper to taste. Cover tightly and cook 25 to 30 minutes.

Remove toothpick from squid and serve whole or sliced, alone or with pasta.