The Lucky's Puccia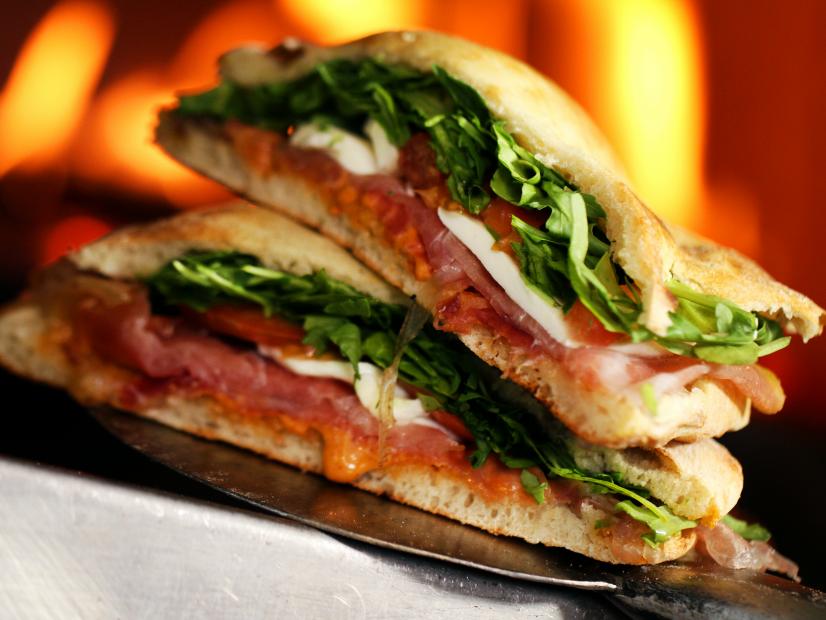 Recipe courtesy of Lucky's Puccias and Pizzeria
Ingredients
Total:

1 hr 35 min

(includes rising time)

Active:

25 min
Puccia Bread:
2 tablespoons extra-virgin olive oil, plus more for brushing
1 1/2 teaspoons salt
1 to 1 1/2 teaspoons yeast (depending on weather)
3 1/4 cups all-purpose flour
Chipotle Aioli:
1 small jar mayonnaise
2 teaspoons chipotle powder
1 tablespoon lime juice
1 clove garlic, very finely chopped or 1 teaspoon granulated garlic
Basil Oil:
2 tablespoons olive oil
Chopped fresh basil
12 slices prosciutto
12 slices fresh mozzarella
12 tomato slices
4 large handfuls arugula
For the bread:
Preheat the oven to 500 degrees F. Combine 1 1/2 cups water and the olive oil in a large bowl. Mix in the salt and yeast. Slowly add in the flour and mix until a dough ball forms. Divide the dough into 4 sections. Roll out into round balls, and then let rise, 30 minutes to 1 hour.

Flatten the dough balls into round Puccia shapes, being careful not to flatten too much or it will not rise during baking. Drizzle a few drops of olive oil on top and spread with your fingertips.

Put the breads on a baking sheet and bake until the bread puffs up and has nice coloring, about 10 minutes. For best results, use a wood-burning oven!
For the chipotle aioli:
Mix together the mayonnaise, chipotle powder, lime juice and garlic.
For the basil oil:
Mix together the olive and chopped basil to taste.
Cut open all the buns.
Spread chipotle aioli on the bottom of each, then top with 3 slices of prosciutto, mozzarella and tomato.

Finish with a handful of arugula.

Spread the top buns with basil oil, and then close the sandwiches and serve.