Tomato salad with burrata and warm 'nduja dressing
Tomato salad with burrata and warm 'nduja dressing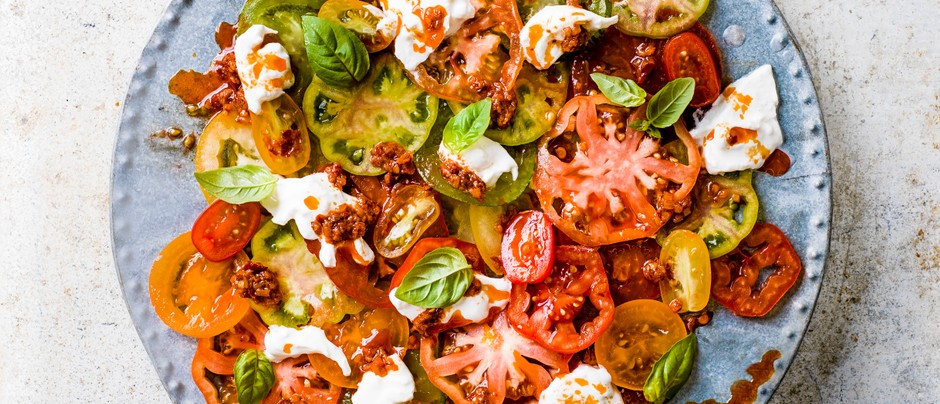 20 minutes
serves 4 as a sharing starter
Easy
With the spice of the 'nduja, the crunch and freshness of the vibrant tomatoes, and the creamy indulgent burrata,
this fresh tomato salad is a great summer starter
Ingredients
tomatoes 400g, of mixed sizes and colors
sea salt flakes
olive oil 4 tbsp.
shallot 1 small clove, finely diced
'nduja 25g (Nduja is a spreadable spicy sausage from Calabria)
Italian red wine vinegar 2 tbsp.
caster sugar 1 tsp.
burrata cheese 1
basil a handful of small leaves
crusty bread to serve (optional)
Method
Use a small serrated knife to slice the tomatoes thinly, then layer on a platter.
If the tomatoes have been in the fridge, do this at least 20 minutes before you want to eat to let
them come up to room temperature.
Sprinkle with sea salt.
Heat the olive oil in a small pan over a gentle heat.
Add the shallot and cook until softened.
Remove from the heat and add the 'nduja, whisking together. Whisk in the vinegar and sugar.
Tear the burrata over the tomatoes. Spoon over the dressing, then top with basil leaves.
Eat with crusty bread, if you like.