Tomatoes and Spinach Pasta…With Olive Oil and White Wine
Tomatoes and Spinach Pasta…With Olive Oil and White Wine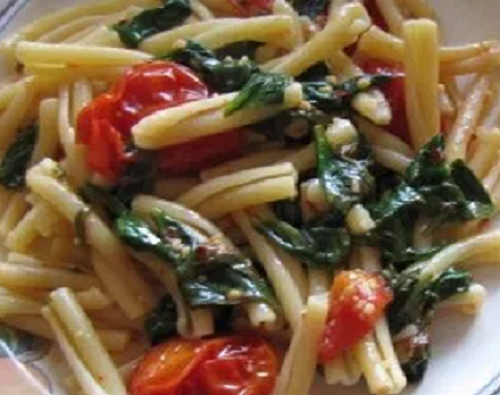 Ingredents
1 pound pasta of your choice
1/3 cup of extra virgin olive oil
1/4 cup of white wine (I used Riesling)
18 or more fresh Roma tomatoes (you can use other tomato types if preferred)
3 chopped garlic cloves
8 to 9 basil leaves sliced
1/4 teaspoon crushed red pepper (optional)
2 cups or more fresh baby spinach
Grated Parmesan Reggiano cheese to taste
Directions
On the stove, heat olive oil and add garlic, fresh basil (roll leaves and then slice), and white wine.
Then add fresh Roma tomatoes whole.
Cook covered over a medium heat until tomatoes cook, then reducing to low heat.
You can add the crushed red pepper at this time.
While tomatoes cook, prepare your pasta
When the pasta is about 4 minutes from being ready, add spinach leaves to the tomato mixture. Over a medium heat, cook the spinach until it is wilted and ready.
Once the pasta is done cooking, spoon the tomato and spinach mixture over the pasta, stirring it in gently.  Add grated Parmesan Reggiano cheese to each serving or eat it as is.