Turkey Piccata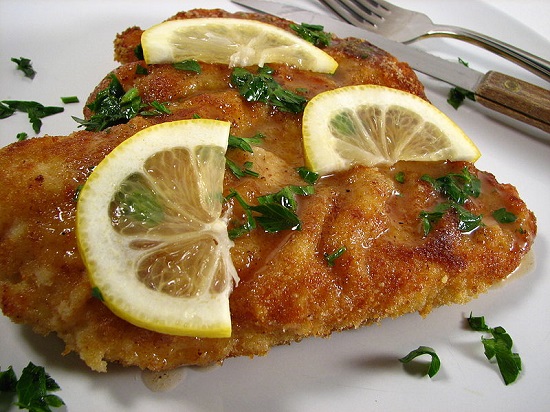 Parkerman & Christie from San Diego, USA, CC BY 2.0 <https://creativecommons.org/licenses/by/2.0>, via Wikimedia Commons
Turkey Piccata
INGREDIENTS
Serves 4 people
4 turkey cutlets, pounded thin

1 cup of all purpose flour for dredging

1 tsp of salt

1 tsp of fresh ground black pepper

2 Tbls of extra virgin olive oil

2 cloves of garlic, chopped

2 lemons

1/2 cup of reduced sodium chicken broth

1/2 cup of white wine

1 Tbls of capers, rinsed

1 Tbls of unsalted butter

1/4 cup of flat leaf parsley

PREPARATION

In a shallow dish, combine the flour, salt and pepper.

Dredge the turkey cutlets in the flour and pat off the excess flour.

In a large frying pan, heat the olive oil and cook the cutlets on low heat until they are browned on both sides. Around 2 minutes on each side

Remove the turkey to a platter and keep warm.

Add the garlic and sauté for 1 minute.

Deglaze the pan with the chicken broth and wine by bringing it to a boil while scraping the brown bits at the bottom of the pan.

Add the capers and the juice from 1 lemon and cook for 1 minute longer.

Add the butter until it is melted.

Pour the sauce over the turkey

Garnish with parsley and serve with a quartered lemon.