Tuscan Roasted Potatoes : Original Italian Recipe
Tuscan Roasted Potatoes : Original Italian Recipe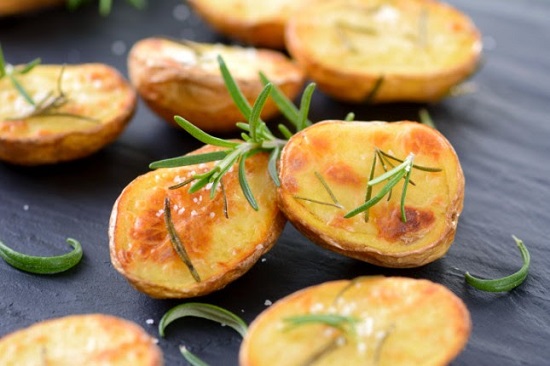 Roasted potatoes are always a delicious treat.  The secret to this recipe is to use fresh herbs.  Make sure to turn the potatoes half way through cooking to ensure they brown on all sides.
Ingredients:
2 pounds new red potatoes, unpeeled and cut into 1 to 2 inch pieces
¼ cup extra virgin olive oil plus 2 tablespoons to brush the pan
1/3 cup white wine
2 tablespoons garlic, minced
1 teaspoon salt
¼ teaspoon freshly ground black pepper
1 tablespoon chopped fresh sage
1 tablespoon chopped fresh rosemary
Salt to taste
Instructions:
1 Preheat oven to 425 degrees.
2 Cut potatoes and put into a large enough bowl to mix. Add oil, wine, garlic, salt, pepper, sage and rosemary. Toss all ingredients to coat potatoes.
3 Pour onto a sheet pan and place in oven. Potatoes should be close but not touching to get proper browning. a typical 9 X 12 sheet pan is perfect.
4 Roast for 25 minutes and remove from oven. Using a spatula, turn potatoes and return to oven.
5 Cook for an additional 20-25 minutes or until potatoes are crispy. Cooking time will vary depending on accuracy of oven and size of potatoes. For our photo, we cut them on the larger size and it took an additional 15 minutes to get the right degree of browning. The trick is to get the potato tender before the liquid evaporates and then brown until done without burning the herbs. The final 10-15 minutes are crucial to the perfect potato.
6 Remove from oven and adjust seasoning by adding more salt if needed and serve.