Veal Capricciosa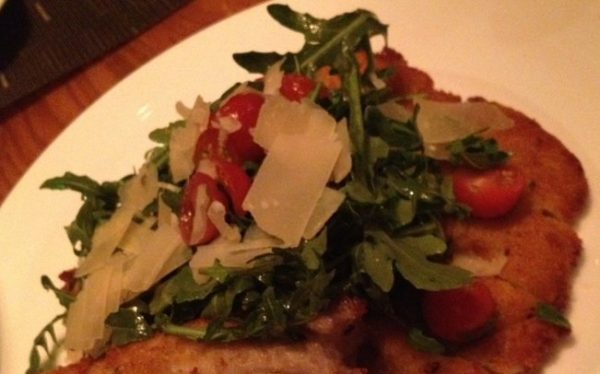 Serves 4
Ingredients:

For the Veal:

4 veal cutlets
2 eggs
1/2 cup flour
2 cups bread crumbs
1/4 cup Pecorino-Romano cheese
2 tablespoons chopped parsley
1 cup extra virgin olive oil

For the Salad:
2 large tomatoes
1/2 medium red onion
1 bunch of arugula
1 head of radicchio
1 tablespoon balsamic vinegar
3 tablespoons extra virgin olive oil
1/2 teaspoon oregano
Salt and pepper to taste

 

Directions:

 Chop tomatoes and red onion, combine in large bowl with arugula and radicchio.

Add oil, balsamic vinegar, oregano, salt and pepper and mix well.

Beat eggs lightly.

 Mix together bread crumbs, pecorino cheese and parsley.

Dredge veal cutlets in flour, egg and then bread crumbs making sure both sides are breaded.

Heat olive oil in large sauté pan over medium heat.

Cook cutlets in olive oil until browned on both sides, 2-3 minutes per side.

Transfer cutlets to plates, spoon portion of the salad over top of each cutlet and serve. Serves 4.